Sessue Hayakawa: Silent Cinema and Transnational Stardom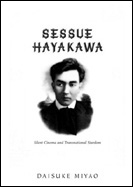 Author

Publisher
Published

10 August 2010
I'd imagine Rudyard Kipling would have been shocked to discover the long shadows cast over 20th-century Western culture by a handful of judiciously selected couplets from his works. His 1897 poem 'The Vampire', for instance, written to illustrate a painting by his cousin Philip Burne-Jones (itself inspired by Bram Stoker's novel Dracula), was subsequently adapted into a Broadway play in 1909 entitled, after the poem's first line, 'A Fool There Was', which became the 1914 film of the same name that launched the world's first screen 'vamp' (in the form of a rather dumpy-looking Jewish girl from Cincinnati named Theodosia Goodman, who was billed under the more exotic stage name of Theda Bara). More perfidious was the influence of the opening "East is East and West is West and never the twain shall meet" line of his 1889 poem 'The Ballad of East and West', its meaning twisted by the many who subsequently plucked it from its original context to justify, among many other wrongs, the treatment of several generations of Asian American performers on the screen.
Hollywood's first Chinese-American screen siren Anna May Wong always joked that she died a thousand onscreen deaths in her 'Dragon Lady' roles lest her various all-American love interests be contaminated by her Asian-ness. She wasn't to enjoy her first screen kiss (albeit within a marital context) until at least fifteen years into her career, in the 1934 Bristol-set British period drama Java Head, made during a brief sojourn in Europe to escape such typecasting - unsuccessfully, I might add, because come to think of it, she died at the end of this film too.
Her male counterpart and later frequent co-star, the Japanese-born Sessue Hayakawa, didn't fare much better either, as Daisuke Miyao's revelatory account of his turbulent Hollywood career makes clear, although at the height of his fame during the latter part of the 1910s he was considered one of the world's most popular screen actors, particularly among women, with an image that "seemed to combine masculinity and femininity", until he was eclipsed by the comparably exotic though rather more Caucasian figure of Rudolph Valentino.
It would be unfair to attribute the fluctuating filmic fortunes of Hollywood's first Asian icon entirely to Kipling, although the "East is East" line does appear in an intertitle in one of his earliest films, The Typhoon (1914). Born Kintaro Hayakawa in Chiba Prefecture in 1889 and first arriving on American shores in 1907, Hayakawa's screen persona was very much at the mercy of wider global trends, as is clear when you look at his two best known roles, sitting at opposite ends of his career, as the predatory Japanese ivory merchant and loan shark in Cecil B DeMille's The Cheat (1915), and as the callous prison camp commandant in David Lean's The Bridge on the River Kwai (1957). As such, his appearances over the years provide interesting indicators as to the way in which both Asians in general and the Japanese in particular were regarded in North America, although we should add that his 'foreign' looks also saw him cast as Latin Americans and Native Americans. Miyao does a wonderful job of detailing such perceptions in considerable detail within the broader cultural climate of the time.
Hayakawa's earliest screen roles were in the productions of Thomas H. Ince, first appearing in a small part in O Mimi San (Reginald Barker, 1914), a vehicle for another expat Japanese, Tsuru Aoki (1892-1961) who, considering women were effectively barred from the screen in Japan's domestic productions of the time, can be considered the first ever major Japanese screen actress. The two fell in love and married, becoming something of a celebrity couple in the otherwise all-white enclave of early Hollywood, and Aoki retired from the screen not longer after to commit herself to family life. A benchmark of how they were seen in America at the time is provided by the not atypical title of the March 1917 issue of Picture-Play Magazine: "The Tradition Wreckers: Two People Who Became Famous, Though Few People without Almond Eyes Can Pronounce Their Names."
Ince's New York Motion Pictures Company, incidentally, was something of a haven for Japanese performers and technicians at the time, nurturing the likes of Thomas Kurihara (1885-1926), who later returned to his homeland and attempted to modernise Japanese cinema through his collaborations with the writer Junichiro Tanizaki at the company Taikatsu, something which you can read more about in Joanne Bernardi's Writing in Light: The Silent Scenario and the Japanese Pure Film Movement and Thomas Lamarre's Shadows on the Screen: Tanizaki Junichiro and "Oriental" Aesthetics.
Hayakawa's millstone was that he not only had to maintain a career within this environment, but he also had to present a positive role model for Asian Americans and represent the country of his birth in a positive light. Still, he was viewed with considerably ambivalence in his homeland, with several of his early films, including The Wrath of the Gods (Reginald Barker, 1914) and Alien Souls (Frank Reicher, 1916), imported to Japan but subsequently banned for bringing dishonour to the nation, while the nationality of his breakthrough appearance in The Cheat was changed to Burmese for the 1918 reissue (the only version to survive) following protests from the American Japanese community. In an attempt to steer his career away from such 'dastardly Oriental' roles and maintain more control of his image, in 1918 he founded the Haworth Pictures Corporation. Still, anti-Japanese sentiment was rapidly rising at the time, and his popularity with American audiences began to dwindle in the face of such developments as the formation of the Japanese Exclusion League of California in 1920. Anti-miscegenation laws, too, effectively barred the possibility of interracial romance from the screen, and Asian actors found themselves increasingly replaced over the decade by Caucasian actors such as Lon Chaney Sr. and Warner Oland made up in "yellowface".
Just as Anna May Wong after him, Hayakawa moved to Europe in the mid-1920s, where he made a few films in France, Britain and Germany, before unsuccessfully attempting to launch himself as a major star back in Japan in the 1930s. However, his Americanised image presented a significant barrier to his popularity at a time when Japan was committing itself increasingly heavily to its own nationalist course. Nevertheless, his international profile did see him cast in a major role in the Nazi German-Imperial Japanese collaboration of Daughter of the Samurai a.k.a The New Earth (Arnold Fanck and Mansaku Itami, 1937), after which he moved to live in France until the end of the war while his wife and children remained in Japan. He spent his final years before his death in 1973 in Japan.
It is Hayakawa's early Hollywood career that receives the most attention in Miyao's fascinating study; a little frustratingly perhaps, as with titles such as The Sun Rises in the East (1932) and Bomber Pilots (1934), the films he made at Shochiku in the early-1930s sound like they might have provided some insight into the Japanese side of the country's increasingly troublesome relationship with America that would come to a head with the Pacific War. Nevertheless, the book is more concerned with what the actor embodied for Western viewers than Japanese ones, and as such, the decision to focus primarily on the early years, when Hayagawa's stardom was at its most internationally visible, is quite understandable.
In any case, at 379 pages in length this perspicacious work can hardly be accused of skimping on the details of Hayakawa's life and, given the sheer obscurity of the output of Hollywood's first decade to most viewers and the scarcity of surviving titles (the book's publication back in 2007 provided a perfect opportunity for a selection of the actor's existing films to be aired at the New York Museum of Modern Art), it more than adequately fills a niche in putting it into some sort of context. The question left hanging is how much better are the roles for Asian actors in America nowadays, a century after the dawn of Hollywood?