Jo Shishido & Toshio Masuda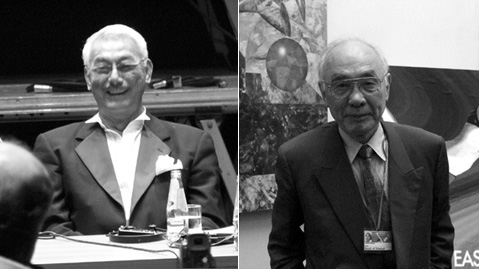 This year's Far East Festival in the picturesque Italian town of Udine played host to a remarkable program curated by Mark Schilling that celebrated the all-but-forgotten world of the Nikkatsu Action movie. Present as guests at the festival were two of the company's most important figures from the period, Jo Shishido, the iconic face best known for his work with Seijun Suzuki, now 72 years old and still as cool as ever, and the studio's most commercially successful director, Toshio Masuda, who during the 1960s turned out a string of hits starring Nikkatsu's most bankable star, Yujiro Ishihara.
Midnight Eye's Jasper Sharp and Stefan Nutz jumped into the fray to talk to them a little more about the era.
How was it seeing yourself after all these years on such a big screen?
Jo Shishido: I really don't like watching the movies I've appeared in. It is not important what I think of my appearances. The most important thing is the reaction of the audience. It's been a really long time since I've had an audience like this, in an opera house that can hold 1200. It was amazing.
It has actually been thanks to TV, not the movies, that I can eat everyday. I have made about 300 movie appearances. My most recent is in an SM movie! I am in Takashi Ishii's Flower and Snake 2 (Hana to Hebi 2). I play Aya Sugimoto's husband. Do you know the maebari? It covers up the crotch region, so you can't see any rude bits. I had to wear one.
You entered Nikkatsu after an audition in 1954. What was your situation at the time, and what qualities do you think they were looking for?
Jo Shishido: Nikkatsu is the oldest film studio in Japan, but after the Second World War they weren't really producing their own movies. After Japan's defeat, American movies were a lot more popular than Japanese ones. Nikkatsu screened a lot of foreign movies at this time and earned a lot of money through this. However, Mr. Hori, the president of Nikkatsu at the time, wanted to make his own movies. There was a lot of competition from the other major studios then, however - Toho, Shochiku, Toei, Daiei, Shintoho.
For this reason, the company decided they needed a star system like the other companies, and launched a whole line of "new faces" as actors. There were 8000 people who went to the first auditions, and this was whittled down to about 500, then only around 20 were finally selected. I was pretty confident I would be among the final selection.
Nikkatsu movies at the time hardly attracted any audiences until Yujiro Ishihara came along with Season of the Sun (Taiyo no Kisetsu) in 1956. His brother Shintaro Ishihara, the current governor of Tokyo, wrote the original novel.
TV wasn't very powerful at the time, so it was best to be a movie actor. Step-by-step I became popular and started to make more money.
During the 1950s when Nikkatsu first started producing films again, there were several directors, such as Tomu Uchida and Shohei Imamura, who were making quite artistic movies. What was the relationship between these directors and the Nikkatsu Action directors?
Toshio Masuda: These directors were never involved in Nikkatsu Action movies of course. During the 50s, we weren't making Nikkatsu Action movies. This was in the 60s. These directors were trying to make popular films for general audiences. But there was a good friendship between us and the other directors. Tomu Ichida was my senior at the company, so I learnt a lot from him. I also was an assistant director on some of Kon Ichikawa's films, like Kokoro (1955) and The Harp of Burma (1956), and a number of films by Umetsugu Inoue.
During early 50s, Nikkatsu's films weren't particularly well received by audiences, until Yujiro Ishihara appeared in Season of the Sun, which was immensely popular. When I first directed him in 1958 with Rusty Knife (Sabita Naifu), Yujiro was about 23 and I was 30, so the company wanted a young director to bring out his talent.
There are various types of directors at this period, of course, and the situation was different from director to director. Shohei Imamura, for example, had a lot of freedom in making the movies he wanted. They wanted me to make movies that starred Yujiro, so they told me what movies to make. I was making very commercial films, because Yujiro was such a big star. We made 25 movies together.

How did Yujiro come to be cast in the movie of Season of the Sun? Was it because it was based on a novel by his brother, Shintaro?
Toshio Masuda: At that time Yujiro was a student at Keio University, but he was not really a very academic type. In fact, he was a pretty bad student, always playing and running around with his friends. Shintaro was actually inspired to write this story about the so-called Sun Tribe (Taiyo-zoku) due to the hedonistic lifestyle of his younger brother's circle of friends.
There's a famous scene in the film set on a yacht. Shintaro asked his younger brother if he wanted to appear in the background in this scene, just being himself. He turned up on the set and so impressed everyone that they decided to cast him in one of the roles. It wasn't the lead role, though.
I wanted to use Yujiro Ishihara to make good films, as he was by far the most important star at Nikkatsu and had a huge amount of fans. After he went independent in 1968 to form his own company, Ishihara Pro, I worked with some of Nikkatsu's other new faces. The most important thing for me was to make the use of these young talents.
All of the idols who worked in Nikkatsu at the time all had different characteristics. They were like their own brand name. How would you describe the Jo Shishido package?
Jo Shishido: At first I just played a naïve young boy role. It wasn't my most successful period. Then I had some problems on the set. After that I spent about 3 months without work. Then I decided to change my face. I had plastic surgery to fatten up my cheeks. I then got a lot of work playing gangsters and heavies. I was Killer Joe (Koroshiya Jo). Then I became a hero again, Joe the Ace (Ace no Jo). Now, after Flower and Snake, it's Dirty Joe!
Nikkatsu Action movies often made use of gangster scenarios, or outlaw characters. How did they differ from other films at the time, for example Toei's ninkyo movies?
Toshio Masuda: Toei's ninkyo yakuza movies, for example the ones that starred Ken Takakura, and Nikkatsu Action movies were totally different. Nikkatsu essentially made youth movies (seishun eiga) - human stories with young people, sometimes with yakuza characters or settings. Toei made real yakuza movies. The Toei producer, Koji Shundo, basically was yakuza. So they tried to shoot the reality of the yakuza world and its ethos. The audiences were totally different. The people who went to see Toei films liked yakuza movies, but people who went to see Nikkatsu films came for the drama.
Nikkatsu Action movies were different from other countries' action movies at the time, for example, those of Hong Kong. We didn't know how to stage acrobatic fight scenes or elaborate action sequences, so the most important thing for me was to focus on the story and the relationship between the characters. So what I was aiming at was more human drama.
I always think of Jo Shishido being the face of Seijun Suzuki's movies. What was your relationship with him like?
Jo Shishido: He's ten years older than me. He made a huge amount of movies at Nikkatsu every year, all entertainment films or program pictures, like he was putting food into cans on a conveyor belt. He was making movies like no one else at that time, and I probably appeared in more of his movies than any other actor. So that was our relationship.
He would write and plan his films back at home, all the time drinking a lot of Suntory whiskey. When he wasn't shooting, he was always thinking about the movie. In the morning, when he met the cast and crew on the set, he would always ask everyone their ideas on how to shoot the particular scenes. Everyone would be standing outside the studio scratching their heads to come up with ideas.
How did Suzuki's firing from Nikkatsu affect your position at the studio?
Jo Shishido: After Branded to Kill, president Hori said "I don't understand this movie. You're fired!" He didn't make another movie for seven years. Seijun had a lot of friends and supporters in the company. Some of the assistant directors or young art directors, actors too, who worked with him left at the same time in protest. Some of them started working on radio programs. I did some radio plays at this time.
I was at Nikkatsu for 18 years. Seijun was fired in 1967, so I left after him. After that he made his next movie at Shochiku, A Story of Sorrow and Sadness, which I also appeared in. He got a lot of awards and critical acclaim for his movies in the 80s, such as Zigeurnerweisen. I didn't appear in any of the movies he made that won awards! He's about 82 now and still making movies. He just finished Princess Raccoon.
How was the atmosphere at Nikkatsu in the three or four years between his firing and the moment the company started making Roman Porno films?
Jo Shishido: Yujiro Ishihara had already left by this time. All the rest of us, such as Akira Kobayashi, Hideki Takahashi, Tetsuya Watari, had all been fired by the time Roman Porno started. Since then TV has been my lifeline, and a few movies for other companies, such as Toho, Toei and Shochiku. So there's never been a time when I wasn't working.
I never worked in Roman Porno, but I had a completely nude scene in my last role Flower and Snake 2, with lots of Viagra! It just came out in Japan, and I think it's going to be a big success.
Toshio Masuda: I left before the company started making Roman Porno, so I never made any at all. During those years, Nikkatsu's business wasn't going so well, the box office revenues declined and all the talented actors and actresses left around this time, so the studio heads knew that they had to do something radical to bring the business back. This was why Roman Porno started. Just before this Nikkatsu merged with Daiei, which was having the same type of business problems.
I made just one film during the time Daiei and Nikkatsu had merged together, but it wasn't so successful. I quit before the company started making Roman Porno to become independent because I didn't like the system in the studio at the time. At this time I directed the Japanese sections of the Hollywood movie Tora! Tora! Tora! My situation was fairly chaotic back then, so I asked Kinji Fukasaku to join me.
The reason why I was approached to do Tora! Tora! Tora! was because I had made Red Handkerchief in 1964 with Yujiro Ishihara. One of the producers at Twentieth Century Fox, Elmo Williams, saw my film when he was casting for it.
You also worked in animation after you left Nikkatsu, notably Leiji Matsumoto's Space Battleship Yamato series, starting with Space Battleship Yamato (Uchu Senkan Yamato, a.k.a. Star Blazers) in 1974. Why did you move away from live action?
The producer Yoshinobu Nishizaki originally had been working with Osamu Tezuka. After that he became an animation producer and wanted to create his own animation, but influenced by live action. Nishizaki had seen the movies I made with Yujiro Ishihara, and was a big a fan of Nikkatsu Action movies. So that's why he asked me to join him.