Iden & Tity
Year

2003
Original title

Iden & Tity

Director

Cast

Running time

118 minutes
Published

16 February 2004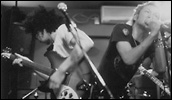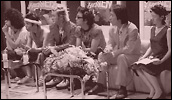 One of the most ubiquitous and characteristic faces in Japanese film over the past fifteen years has been that of Tomorowo Taguchi, the actor who can be spotted in everything from Shohei Imamura's Cannes winner The Eel to bargain basement dross like the Guinea Pig entry Android of Notre Dame. Rarely seen in a lead role (a recent exception was Taishi Muramoto's hugely enjoyable but little seen Mask De 41), Taguchi, like Ren Osugi and Susumu Terajima, has been imprinting himself into our collective subconscious by appearing in an average of 17 films a year.
Coming from a punk music background - he was the singer of the band Bachikaburi - he was involved in experimental theatre before teaming up with Shinya Tsukamoto for Tetsuo: The Iron Man, playing the mutating salaryman in the film that kickstarted the careers of both actor and director. Fourteen years and an uncountable number of films later, Taguchi made the decision to step behind the camera to adapt his close friend Jun Miura's manga Iden & Tity.
Miura and Taguchi, who have been friends since their university days, have partnered on a wide variety of art projects over the years, distilling from these collaborations a common philosophy they refer to as 'Bronson'. In a nutshell, Bronson represents a combination of qualities as epitomized by the late great actor of the same name, a philosophy in which seeming outward flaws are merely indications of the integrity and strength that lie inside.
Iden & Tity is the story of one young man's discovery of his own capacity for being 'Bronson'. Nakajima (musician Mineta in an impressive acting debut) is the guitar player for rock band Speedway, a four-piece that seems chronically unable to outgrow the club circuit or expand their core audience of loyal fans. Despite a boom in the interest for homegrown rock bands, the boys find themselves saddled with a record company that boycotts any venture that is not aimed at writing chart-topping pop ditties. At the same time, Nakajima regularly clashes with lead singer Johnny (played by Ping Pong's ubervillain Shido Nakamura) over a variety of artistic differences. While spike-haired, leatherclad Johnny wants the amps turned up to 11 on all occasions, Nakajima, with his moptop and nerdy glasses, aims for a more sensitive approach to composing and performing. Crises lurk not only within the band, but at home too, as Nakajima tries to bury his insecurities by cheating on his girlfriend with a succession of groupies, all of which fall for exactly the cute and cuddly aspects of his appearance that he himself so despises.
Iden & Tity treads similar ground to Takanori Jinnai's recent reconstruction of his own music career with Rockers. The tone of the two films is vastly different, however. In both cases the story concerns a rock band's struggle to "make it", but where Jinnai takes a pleasant stroll along dramatically well-trodden paths, Taguchi's film is ultimately not about making it big, but about keeping it real. Iden & Tity recounts Nakajima's odyssey to find peace with himself in the face of outside pressures and expectations, both as a musician and as a human being.
A major indication of the difference between the two films is that whereas Jinnai updates his story to the present day, Taguchi sets his during the mid-1980s 'Band Boom', a period when rock music became so popular in Japan that a deluge of mediocre new bands quickly caused an overkill that dragged many of the quality groups that had debuted in the late 70s down with it. Taguchi's own band Bachikaburi was but one of the victims, some of whom recount their mixed feelings over the Band Boom period in a montage of interview segments that opens Iden & Tity (Stalin vocalist / punk patriarch Michiro Endo and glam rocker Rolly - also seen in Sion Sono's Suicide Club - among them). As a result, there is a pessimistic undercurrent to the film that adds an extra dimension of sadness to Nakajima's struggle for integrity. As he calls on his hero, and personal Bronson, Bob Dylan for guidance and strength, we come to realise that Nakajima's fate will never see him hit the big time and that frustrations will inevitably lurk in the darkness ahead.
Filled with great music and made with the blessing of Bob Dylan himself (no mean feat for a Japanese indie debut), Iden & Tity will strike a chord with anyone who has ever attempted to realize their dreams, whether they failed, succeeded, or fell somewhere in between.