Patriotism
Year

1966
Original title

Yukoku

Japanese title

Director

Cast

Running time

27 minutes
Published

20 March 2001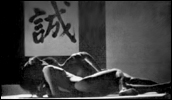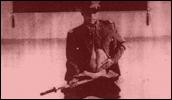 Yukoku is a historic piece of cinema, not only for proving that Japan's foremost twentieth-century author was also in fact a filmmaker, but because the events portrayed in it were an omen for Yukio Mishima's suicide a few years later.
Based on Mishima's own novel of the same name, which was in turn inspired by the true events of 'Ni ni roku' - a failed, patriotically-motivated, attempted coup by a group of officers on February 26, 1936 - Yukoku deals with the ritual suicide of high-ranking naval officer Takeyama. His harakiri is spun out as a long, emotional, romantic ritual in which he is joined (all the way to the bitter and graphically bloody end) by his wife Reiko.
Shot in epxressionistic black and white, silent with long expository intertitles elaborating the goings-on and detailing the historical background of the story, Yukoku visually references Noh theatre. Mishima (who performed the lead part, wrote, directed, and produced, based on his own short story) was an avid admirer of this traditional style of theatre and wrote a great number of plays in the genre. Set in a single one-room interior, with only a kanji sign reading "shisei" (fidelity) emblazoned on the wall, Yukoku is made up of carefully composed, static wide shots and lingering close-ups (most of which, incidentally, show Mishima's eyes, which are always just out of frame or obscured by the shadow of his officer's cap).
Though his fascination for the story quite clearly stemmed from Mishima's own nationalist spirit (he was famous for his traditionalist views and opposing stance against the westernisation of Japan), the director has managed admirably well in getting across the emotional weight of the story. With its cast of two and minimalist set, the film allows nothing to interfere with the passion between husband and wife as they say their goodbyes to every inch of each other's bodies. As a result Yukoku becomes a powerful tribute to not only the human spirit of determination but also to the human physique (Mishima himself was, as this film proves, an avid body builder).
Yukoku (which roughly translates as 'concern over the state of a nation') is a rare sight indeed. Only intermittently screened abroad, it was banned from exhibition and distribution in Japan by Mishima's widow, who apparently ordered all available prints destroyed. No doubt this was due to the parallels to Mishima's own suicide in 1970, the circumstances of which were remarkably similar to the events portrayed in the film: with several members of his private Tate no Kai (Shield Society) army at his side, the author attempted to rouse the military into a coup d'etat. When the attempt failed to drum up a following from within the ranks of officers and infanterymen, the disillusioned Mishima took his own life by means of seppuku on the spot.
Foreign prints of Yukoku have survived and it was a version with French intertitles I caught at a festival screening in Paris in early 2001 (on February 26 in fact, the date of the original coup d'état). The making of the film was restaged as part of Paul Schrader's fascinating 1984 biopic Mishima: A Life in Four Chapters, with Ken Ogata playing the author.
Yukoku remains Mishima's only film as a director, although he was involved in filmmaking in other capacities, most famously on his collaboration with Kinji Fukasaku on Black Lizard (Kurotokage, 1968), based on his own play which in turn was adapted from a novel by mystery author Edogawa Rampo. Mishima also made a cameo appearance in the film as a human doll, an object of beauty admired by the titular character, a female criminal mastermind (played by famed female impersonator, and reputedly Mishima's real-life lover, Miwa Akihiro / Akihiro Maruyama).