Rockers
Year

2003
Original title

Rokkazu

Japanese title

Director

Cast

Running time

105 minutes
Published

18 November 2003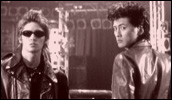 Filmed documents of the Japanese punk scene of the late 1970s and early 80s are rare items indeed. What exists is nearly all the product of the illustrious Sogo Ishii, who made several handfuls of short films, features and concert films during the period, many of which are populated by the country's various punk rock exponents, with 1982's astonishing Burst City representing arguably the definitive record of the spirit and energy of the movement.
Of the many bands that took part in Ishii's cinematic celebration of punk rebellion, The Rockers were among the most spotlighted, their frontman Takanori Jinnai playing one of Burst City's main characters. Pale-faced and goblin-like, Jinnai's vivacious performance was only the start of an extensive career as an actor and media personality, one that properly kicked into gear when The Rockers split up not long after filming was completed.
Formed in 1977 in Hakata, North Kyushu (also home of the bands The Roosters and ARB, the latter fronted by Ryo Ishibashi of Audition fame), The Rockers followed the life cycle so typical of punk bands of any nationality, lighting up like a flare before quickly bursting apart. The five-piece band recorded three albums between 1980 and 1982 ('Who', 'Come On', and 'Shakin'') before hanging up their guitars and their leathers, and moving on to a variety of fates. Jinnai's two-decade acting career saw him appearing in the likes of Satoshi Isaka's The Frame (Hasen no Marisu, 1999) and Hiroyuki Nakano's Red Shadow (Akakage, 2001), and winning Best Actor accolades at the Japanese Academy Awards on no less than two occasions. He made his directorial debut in 2001, helming the Running Free segment of the omnibus film Tokyo Zance, produced by fellow musician Tsunku.
Although moving on to directing a feature would seem a logical next step in this process, when you realise Jinnai's debut film is in fact a heavily fictionalised version of the story of his own band The Rockers, the affair gains an extra dimension; it's probably a world first that the singer of a rock band should direct a fiction film about his own group, twenty years after the fact. They may have consciously lived through the times, but Alex Cox wasn't a member of The Sex Pistols and Oliver Stone was certainly never a part of The Doors. Aside from the question if they would even be capable of it, would actual band members even have enough distance from their own past to direct an effective adaptation of their own life stories?
Distance is certainly not something we need to worry about when it comes to Rockers. Rather than trying to be as precise as possible, Jinnai went in the opposite direction; as the absence of an article in the title suggests, this is not a factual retelling of the life and career of The Rockers. The director / frontman threw authenticity out the window and decided to capture the spirit and atmosphere of the band's early days before record companies came calling. Except that this is not the same band and these are not the same early days. Don't expect period detail; this film is to all intents and purposes set in the present, and the word 'punk' is noticeable only for its complete absence.
So, should we be disappointed then? Is this Jinnai's attempt at whitewashing his own history or perhaps even a simple case of total misfire? None of the above, I'm happy to report. What we have here is a director taking heaps of inspiration from his own past to deliver a most satisfying commercial comedy, one filled with gleeful amounts of self-mockery. Jinnai pokes fun at himself and his fellow Rockers, portraying the band as a quartet of losers and nerds whose stage act wouldn't fill a backroom, let alone an entire club. Jin, the director's own effigy played by Nakamura, still lives at his parents' house where he lip-synchs to rock 'n' roll records. Guitarist Ko-chan (Tsukamoto, representing bleached-haired Rockers stringman Hitomi Tsurukawa) is a mess of sexual repression after a childhood at the mercy of two older sisters eager to use him as a guinea pig for their make-up skills. Bassist Gaku-chan (Ryuta Sato, representing original four-stringer Jinkichi Anai) keeps a bucket ready in the wings for whenever his nerves get the better of him, and drummer Momo-chan (Okada in the role of Yoichi Funakoshi - and note all the cute and decidedly un-rock-like nicknames) is doomed to forever carrying the botched childhood attempts at self-tattooing.
It's not until this foursome is forced to look for an additional guitar player after Jin's dad burns his Stratocaster (followed by a vision of Jimi Hendrix at Monterey), that attitude and musical ability enter into the equation. Leather-clad, shade-wearing Tani (Tamaki), inseparable from his black Les Paul, is introduced as the king of R'n'R cool and Jinnai keeps him firmly seated on his throne throughout the film, retroactively proclaiming the guitarist, rather than himself, as the band's true hero (not coincidentally, he is the only band member referred to by his real name).
Freed from the need to be factual, Rockers leaves the audience free to judge it entirely on its merits as a film. With a tried and true rags-to-riches plot containing more than its share of idiosyncrasies, Rockers is a film that will please even the most uninitiated of viewers, its excellent expressive and energetic performances (the band's entire rhythm section consists of actors from the not dissimilarly spirited Kisarazu Cat's Eye TV series, penned by GO, Ping Pong, and Zebraman scribe Kankuro Kudo) making it a rewarding experience even for unsubtitled gaijin viewing (you won't be alone in this either, since most Japanese probably won't catch a good part of the dialogue due to the thick Hakata accents employed throughout).
It may not offer any insights into the history of the Japanese punk music scene and even similarities with the band that inspired it are superficial at best, but Rockers transcends that admittedly narrow focus to become a film of with a more universal appeal. With his debut film, Takanori Jinnai has delivered, quite simply, one of the year's pleasant surprises.