The Matsugane Potshot Affair
Year

2006
Original title

Matsugane Ransha Jiken

Japanese title

Director

Cast

Running time

112 minutes
Published

21 August 2007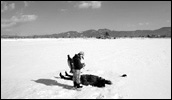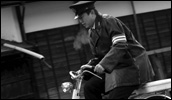 The surreal ensemble comedy has become one of Japan's most endearing and original genres in recent years, though most of them lack the coherent genre identities or transgressive content that seem to guarantee foreign distribution. Despite their often complex, dispersed or episodic narratives, most of these films, including Katsuhito Ishii's The Taste of Tea (Cha no Aji, 2004), Toshiaki Toyoda's Hanging Garden (Kuchu Teien, 2005), or Kiyoshi Kurosawa's License to Live (Ningen Gokaku, 1998), revolve around the anchor point of a dysfunctional or eccentric family unit.
Nobuhiro Yamashita's deliciously absurd Matsugane Potshot Affair is no exception, with the focus on two brothers who find themselves hilariously catapulted onto different sides of the law after a woman's body is discovered on the outskirts of their dead-end hometown of Matsugane. There is a liberal smattering of Shohei Imamura's The Eel (Unagi, 1997) in the strange yet oblivious inhabitants that populate the titular setting - home of 'the wild boar legend' as the welcome sign tantalisingly proclaims - which forms the backdrop to the film's sprawling story.
The irreverent black humour, for which Yamashita is well known, kicks off from scene one, when a precocious youngster comes across the woman's body in the snow and, rather than going for help, takes the opportunity to fondle her breasts. Kotaro Suzuki (Arai) is the cop assigned to the case, and his brother (Yamanaka), who we first see trying to hammer a dent from his fender, is, of course, the hit and run driver. But just when the film's generic credentials seem to be in order, Kotaro makes the discovery that the woman is not entirely dead - thus putting a stop to any hope of a murder mystery. Had the woman stayed dead, it would have been better for the two brothers, as she happens to be one half of a Bonnie and Clyde style crime partnership. After coming around on the autopsy table, she proceeds to make the life of Suzuki's slow-witted twin hell; forcing him to lodge her and her fugitive boyfriend in his family's log cabin and to help them retrieve a stash of stolen gold from a frozen lake. But what to do with the bullion once it is in their hands? Not to mention the severed head...
Aside from the not insignificant issues of his wayward brother and the biggest crime this sleepy town has ever witnessed, Kotaro also has family problems to worry about, not least the fact that his father has impregnated their neighbour's sluttish but retarded daughter, something to which mother reacts with resigned disappointment as though her husband had merely forgotten to take out the garbage. More importantly, at least to Kotaro who seems to drift through the film in a state of constant and utter denial, there is also the pressing matter of a mouse infestation in the tiny police station, which may or may not be a figment of his imagination.
Kotaro is played by Hirofumi Arai, a third generation Korean-Japanese who started his career playing highschool brawler Aoki in Toshiaki Toyoda's angst-ridden Blue Spring (Aoi Haru, 2001) and Isao Yukisada's kinetic Go (2001), a film that broached the issue of ingrained racism against Korean immigrants in Japan. The normally assertive Arai is here atypically cast as a rather clueless character, which must surely have formed a deliberate approach by the director. Arai's deadpan performance, as he sets traps for mice that remain frustratingly allusive and numbly watches the world unfold around him, is perfectly suited to the film's absurd tone and its exquisitely composed images. This mismatch is emphasised by the fact that he recently appeared in Sway (Yureru, 2005), another film about a strained relationship between brothers following a girl's death, although Yamashita's film could not be more different in tone to Sway's emotionally restrained courtroom drama. Arai's incongruous presence thus contributes to the general feeling of unease; the sense of reality being somehow out of whack, not unlike a Haruki Murakami novel.
Indeed the majority of the film's humour stems from the fact that Kotaro is entirely unable to deal with, or even fully register, the problems with which he is confronted, something that is made abundantly clear when, after digging up the severed head, he steps back in shock and says to his brother 'let's go to the police'. The fact that he is clad in full uniform at the time fails to register and the moment is perfectly captured in a typically wry tableau, held by the camera for a just a second longer than one would call comfortable. Kotaro's attitude to life is also perfectly summed up when his father describes him to a potential marriage candidate as someone who 'just sits behind a desk and cycles around the town a bit' then, remembering he is actually supposed to be making a good impression, quickly backs this up with 'Of course not just anyone could do it.' Kotaro certainly can't and so, as reality gets more and more unbearable, and the mice get noisier and noisier, he finally cracks; he heads to the water board with a bag of pesticides that he politely requests they dump into the reservoir in order to 'cut them off at the source'.
In this portrait Nobuhiro Yamashita takes a similar approach to the provincial police force as Korean director Bong Joon-ho does in his brilliantly irreverent serial killer satire Memories of Murder, though here the tone is quirkier and less demanding of the audience's moral engagement. Yet it is exactly the lightness of the tone, in spite of the dark subject matter, that makes the film so squirm-inducingly funny.
Adapted very loosely from a novel by Ryunosuke Akutagawa with the help of his regular collaborator Kosuke Mukai, and with his producer's encouragement to freely experiment, the resulting film's skewed worldview departs drastically from its source, widening its focus from the two twins to a portrait of a whole town. The fact that Yamashita makes the material his own is announced with the film's opening remark: 'a little bit of dramatising is an occupational problem that cannot be helped'.