Uzumasa Jacopetti
Year

2013
Original title

Uzumasa Yakopetti

Japanese title

Director

Cast

Running time

83 minutes
Published

14 January 2013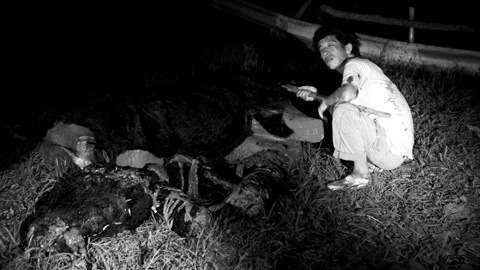 The joys of writing about Japanese cinema are twofold. On the one hand there exists a seemingly inexhaustible treasure chamber of older films from which forgotten gems are dredged up with astonishing regularity by the likes of festival programmers, curators and other intrepid explorers of all things cinematic.
On the other, there is no shortage of new talent either, many of them labouring far away from the hub of Tokyo's professional film industry, yet displaying surprising deftness, audacity and imagination. This constant supply of fresh blood unfortunately does not always manage to revitalize the industry at large, but it does at least infuse the distant observer with a constant sense of discovery and wonder, not to mention curiosity and excitement. For a recent example, see Saudade by Katsuya Tomita, an indie creator operating from his home prefecture of Yamanashi.
The increasingly difficulty of young talent to evolve into professional filmmakers is a genuine problem for, and possibly a danger to, Japanese cinema. Occasionally, though, a film comes along that make one feel that the greater the distance from major studios the better, lest its maker's uncompromising visions become diluted. One such filmmaker with uncompromising visions is Kyoto-based Moriro Miyamoto, director of Uzumasa Jacopetti, a film whose contents are even odder than its title. (Uzumasa, ironically, is the area of Kyoto where the lots of traditional major studios Shochiku and Toei are located.)
IT worker Shoji (Wada) leaves his job to devote himself to the construction of a house held together by the pure of repelling power of its magnetic floors. A frustrated beat cop with vigilante tendencies (Kitahara), but not the nerves to carry them out, catches him in the act of slaughtering a bull whose hide is meant to function as wall decoration for this magnetic abode. Recognising Shoji's skills at dismemberment, the cop offers him money to maim several local hoodlums, a task subsequently carried out with matter-of-fact efficiency. Meanwhile, the budding inventor-turned-avenger's wife (Kiki) takes a cue from her hubby's new vocation and expands her penchant for squashing bugs into a full-blown murder spree. Which provides the vigilante cop with a dilemma that gives new dimension to the age-old giri-ninjo conflict.
Despite what its title suggests, Uzumasa Jacopetti plays less like Kansai mondo than a downtown version of Jeunet and Caro's surreal slaughterhouse comedy Delicatessen. Though it seems an unidentified cinematic object, it does come with a set of credentials: director Miyamoto previously made the baffling Butt Boat and was director of photography on Kasumi Hiraoka's The Primitchibu World as well as the short that preceded it, Red Light District Graffiti (Rakugaki Iromachi), two garishly paletted and vividly imaginative examples of original filmmaking on the margins of Japanese cinema. Uzumasa Jacopetti's Kyoto-based producer, Toshiki Shima, was the man behind Go Shibata's abrasive and quite insane Doman Seman (Horikawa Nakatachiuri, 2010) and therefore also no stranger to colouring luridly outside the lines.
Odd but also oddly endearing, Uzumasa Jacopetti has loopy ideas to spare, yet its 83-minute running time means the film never overstays its welcome. Definitely a candidate for more adventurous film festival programmers out there, it's a gory spectacle too, yet there is a skewed, other-dimensional, even futuristic twist (the film may as well have been titled Uzumasa Roeg) to Miyamoto's distorted-lens visions of hand-to-mouth existence that provides overall coherence. Discover and wonder.