Zatoichi: The Blind Swordsman
Year

1989
Original title

Zatoichi

Japanese title

Director

Cast

Running time

116 minutes
Published

9 August 2013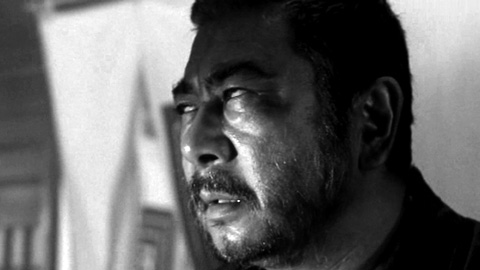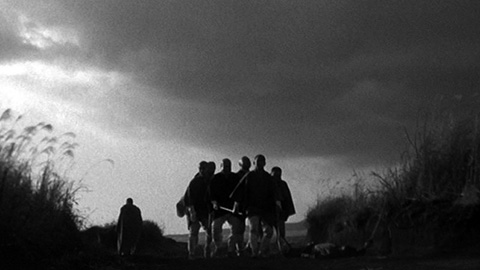 Zatoichi the blind swordsman began life as the subject of a 1948 essay by writer Kan Shimozawa, which chronicled the life of an actual blind vagabond who travelled Japan in the mid-19th century, during the final years of the feudal shogunate reign. Later researchers dug deeper and identified the historical Zatoichi as one Abe Tsunezaemon, who, under the assumed name of "Sadoichi", lived several centuries prior and whose grave – with a conspicuously well-preserved headstone inscribed "Zatoichi" – can be found at the Jokoji temple in Fukushima prefecture.
The character made his first appearance on the big screen in 1962 and became an immediate crowdpleaser. By 1973, Zatoichi had slashed, gambled and stumbled his way through 25 feature films. His wanderings subsequently took him into small-screen territory, where he displayed his almost superhuman skills with sword and dice – as well as his ungainly manner with the fairer sex – in a further 112 episodes of a television series that ran from 1974 to 1979.
As Zatoichi wandered off into the mists of time, so did the man who incarnated him in every single one of his screen outings. Shintaro Katsu owed his career and star status to his star making turn as the blind swordsman cum masseur in Kenji Misumi's 1962 original The Tale of Zatoichi (Zatoichi Monogatari). Prior to this, Katsu had been one of the young hopefuls under contract with the Daiei studio, and had risen to the rank of leading man in a number of chanbara swordplay films, including a pre-Zatoichi turn as a blind outcast in Secrets of a Court Masseur (Shiranui Kengyo) in 1960, directed by Kazuo Mori, who would later helm a fistful of Zatoichi entries. Genuine star status, however, continued to elude Katsu. He seemed to eternally lag behind his contemporary Raizo Ichikawa, the boyishly handsome leading man who seemed just as much at home wielding a blade as playing romantic leads or tackling more challenging roles in present-day dramas helmed by the studio's A-list directors.
The Tale of Zatoichi changed everything. It catapulted Katsu into the ranks of the illustrious, a position where he would firmly remain, thanks to an average annual output of three new Zatoichi adventures a year. Other vehicles were soon tailored around Katsu's burly, non-conformist rebel image, including the Hoodlum Soldier (Heitai Yakuza) series of subversively comical action-adventure films set on the Manchurian front during World War II.
Indeed, Daiei knew how to milk a commodity and had Shintaro Katsu shoot up to eight films a year during much the 1960s. It was Zatoichi, however, that remained the actor's signature role. So much so, in fact, that when Daiei went into the financial doldrums at the dawn of the 1970s, Katsu founded his own company Katsu Production and took the rights to the Zatoichi series with him. Freed from the limitations of in-house production, Katsu invited major names that had previously been tied to rival studios to take part in the series: Toshiro Mifune reprised his role as Akira Kurosawa's original Man With No Name in Zatoichi Meets Yojimbo (Zatoichi to Yojinbo, 1970), directed by the master of cynical action comedies, Kihachi Okamoto (of Kill! and Red Lion fame). Another Kurosawa regular, Tatsuya Nakadai, played villain in Zatoichi: The Festival of Fire (Zatoichi Abare Himatsuri, also 1970). Attempts at diversification went as far as pairing the blind swordsman with the one-armed warrior popularized by Hong Kong martial arts star Jimmy Wang Yu in 1971's Zatoichi Meets the One-Armed Swordsman (Shin Zatoichi Yabure Tojin-ken) – complete with an alternate ending prepared for the Chinese market, in which Zatoichi bites the dust.
Though under his own banner he appeared in and produced many a fascinating and ambitious film – including Hideo Gosha's epic tale of the shogunate's downfall, Hitokiri, and the much loved Lone Wolf and Cub series starring Katsu's real-life brother Tomisaburo Wakayama – Katsu never managed (or perhaps never sought) to escape the spectre of Zatoichi. Donald Richie, in his enthralling memoirs The Japan Journals 1947-2004, went so far as to suggest that there was to Katsu an "absence of anything and anyone when Zatoichi is not there".
The 1980s would prove Richie's assessment. After the cancellation of the Zatoichi TV series, Katsu appeared in fewer and fewer films, and became an increasingly rare sight even on television. Akira Kurosawa's 1980 film Kagemusha – The Shadow Warrior, about a commoner posing as a dead lord he physically resembles, was initially tailored around Katsu's impetuous, lower-class screen persona, yet the high-profile partnership ended in a premature separation when the egos of director and star clashed; Katsu departed, to be replaced by Tatsuya Nakadai (the full story behind the breakup can be read in Waiting on the Weather, the engaging personal memoirs of Kurosawa's long-time aide Teruyo Nogami).
The rest of the decade saw Katsu living up his celebrity status, but delivering little in the way of artistic statements. With much of the movie industry in the doldrums, it also wasn't quite the decade to be making artistic statements. But even in the domain of sharp-witted, crowd-pleasing entertainment, Katsu was no longer a figure of note – one suspects that the demographic shift in cinema-going audiences, where women became an increasingly important target audience, was not quite in favour of Katsu's alpha-male screen image. In this respect it is useful to be aware that his was a period in which even such a master of raucous, bloody gangster films as Kinji Fukasaku was shooting mainly romantic dramas and adaptations of literary classics.
The journey across the wastelands ended with the 1989 release of Zatoichi: The Blind Swordsman, the big-screen comeback of Shintaro Katsu and his best-loved character. Directed by and starring Katsu, it showed Zatoichi as a greying but still vital force to be reckoned with – he dispenses with more enemies than in any of the previous films or TV entries, making Katsu's final Zatoichi film the most violent in the series. Many of the earlier instalments, particularly those directed by the underrated Kenji Misumi, demonstrated a certain reticence in the use of violence. Samaritan Zatoichi, (Zatoichi Kenka Daiko, the 19th episode in the series), for example, is a film about renouncing violence, about trying but ultimately failing to find redemption for violent acts and their consequences. Although the wish to make good for harming the innocent is a common trope in the series, Samaritan Zatoichi stands out for genuinely looking at the implications of the hero's use of violence: Ichi, the man who normally kills a dozen opponents as easily as snapping his fingers, kills a single man at the start of this film and remorsefully spends the rest of the running time trying to protect the victim's sister and, more importantly, to prevent any further violence from happening. Even voluntarily rendering it at one point, his sword stays inside its cane until the very end, when Ichi is forced to defend himself but gains nothing from the resulting death of his opponent: the man we see walking into the sunset at the end of Samaritan Zatoichi is a demoralised and lonely human being instead of a chirpy vagabond.
The bloodletting in Shintaro Katsu's 1989 film, by contrast, is bested only by Takeshi Kitano's CG-aided massacres in the 2003 reboot. Not every later resurrection of the blind swordsman amped up the violence, however: while we shall ignore even the existence of Junji Sakamoto's arrogantly titled yet inane SMAP-ized Zatoichi: The Last (2010), Takashi Miike's 2007 stage version, starring Show Aikawa in the title role, adhered firmly to the Misumi tradition.
Perhaps all the carnage in his film was the result of a desire on the part of Katsu to deliver proof of his virility at the age of 59; Kanako Higuchi's appearance as a sexy female yakuza whose rather limited screen time is devoted to seducing Zatoichi in an outdoor bath seems to support the reading of the film as a vanity piece – there certainly is nothing ungainly about the way Katsu shows her every corner of the pool, but as a director he at least has enough savvy to shoot the scene with a fixed camera and with moody lighting, lending it a dreamlike detachment. (Indeed, Katsu's directorial touches often imbue this film – intentionally or not – with an otherworldly air, while the Hideo Gosha-esque palate of autumnal colours and earth tones enriches it upon multiple viewings.)
Lending moral support are a number of the star's real-life cronies and drinking buddies, who pop up in supporting roles, such as the rock stars Yuya Uchida (as boss Akabei), Takanori Jinnai (as inspector Hanshu) and Joe Yamanaka (complete with characteristic dreadlocks as an arrogant but short-lived ronin), as well as Katsu's son Ryutaro Gan, who delivers an icily menacing performance as the film's main villain, boss Goemon.
The violence is redeemed by the addition of the fascinating character of a sleepless, artistically inclined ronin played with great restraint by the decade's leading screen actor Ken Ogata. Serving as equal parts comrade and nemesis to Zatoichi, his presence adds a depth of ambiguity to a story that could otherwise easily have turned pedestrian. One can easily imagine how Takeshi Kitano had Ogata in mind when he cast Tadanobu Asano in a not entirely dissimilar role in his 2003 film.
Shintaro Katsu's Zatoichi: The Blind Swordsman did not exactly resurrect its star's career, but did at least redeem a lost decade. He went on to co-star in Kazuo Kuroki's mud-caked remake of the silent classic Roningai in 1990, which received a fair amount of critical notice and international festival exposure. His performance as the fading, overweight and inebriated ruffian Goemon the Bull was to be Katsu's final screen appearance.