Ga Netchu! The Manga Anime Syndrome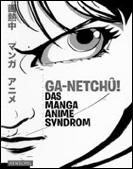 Editor

Publisher
Published

10 November 2009
There's been a dearth of decent introductory texts for those not "in" on the manga/anime scene who wish to find out what the whole thing is all about, what the main titles are, where the aesthetic and cultural origins lie and how they have evolved, the state of these industries today and how both media are constructed and consumed in Japan. Thankfully the Deutches Filmmuseum have put this to rights with this lavishly-illustrated hardback released as the catalogue to the "Anime! High Art - Pop Culture" exhibition held in Frankfurt am Main in 2008 that subsequently travelled to a number of other venues across the world.
I should state at this point that it is difficult to be wholly objective about the book, seeing as my 'Between Dimensions: 3D Computer Generated Animation in Anime' is one of the 30 or so essays included between its 280 pages, but one thing that really struck me when seeing the finished product was what a good job the editors have done in commissioning pieces that tackle the two fields from a variety of different angles yet which build upon and interconnect with each other in revealing ways, while still remaining concise enough to make their points without outstaying their welcome. For example, my essay is bracketed by Thomas Lamarre's 'Full Limited Animation', which explains what is meant by the terms full and limited animation (the latter being a cost-cutting device where only a limited part of the flat image moves, something of a defining characteristic of anime best exemplified by Osamu Tezuka's Astro Boy TV animations in the 1960s) and how both techniques have been creatively deployed in Japan, and Nils Dittbrenner's 'Anime Interaction: Video Games and Manga Culture' about how the manga/anime aesthetic has influenced the form and content of video games.
There's a number of articles about portrayals of women across these media, including Dinah Zank's 'Girls Only!? Japanese Girls' Culture as Reflected in Manga and Anime', Doris Croissant's 'Prince Genji in Manga: Gender, Pop and Parody' and Holger Briel's 'Hentai: Eroticism in Manga and Anime'; there are focuses on individual studios in Lawrence Eng's 'The Fans Who Became Kings: Gainax and Otaku Culture' and Julia Nieder's 'A Southern Breeze from the Far East: the Films of Studio Ghibli'; there's Stephan Kohn's 'Japan's Visual Turn in the Edo Period'; Daniel Kothenschulte's 'Opulence and Limitation: The Styles of Early Anime'; Volker Fischer's 'Urban Iconophilia: Manga and Product Culture'; and a revealing article by Nippon Connection's Alex Zahlten entitled 'Something For Everyone: Anime and Politics' about Japan's recent attempts to promote its 'contents' industry encouraged by former Prime Minister and self-confessed manga fan Taro Aso, what this means for the industry at large and whether it is indicative of a new form of nationalism that emphasizes the differences between Japanese and foreign pop culture ('soft power' and 'national character' are two phrases you'll hear a lot in relation to anime nowadays). Did you know, for example, that only a few years back the Japan Foundation donated a season of the soccer anime Captain Tsubasa (1983), dubbed into Arabic, to the largest Iraqi television station "to provide the children with a vision of a positive future", according to Aso.
You'll notice from the above that most of the writers are locally based, but the German angle brings about its own revelations, notably in Josef Gohlen's 'Suspect, Yet Successful: Anime's Way Onto German Television', which looks at how Japanese/German/Austrian collaborations such as Vicky the Viking (1972-74) and The Adventures of Maya the Bee (1975) came about, and how Europeans were consuming Japanese animation long before Katsuhiro Otomo's Akira hit Western markets.
The strongest aspect of the catalogue is its plethora of full-colour illustrations, which demonstrate convincingly the points made in many of the articles; for example, how the flat manga style was derived from Edo period woodblock prints by the likes of Kunisawa Utagawa, Hokusai Katsushika et al, how depictions of war evolved in woodblock prints and manga between the Sino-Japanese and Pacific wars, how the styles of different animators and manga artists vary, and perfectly illustrate such articles as Kazuma Yoshimura's "Manga is the Face: Manga, Photography and Portraiture."
Ga-Netchu! has been published in both German and English, though the English-language version is currently not stocked by online retailers such as Amazon.com, and even at the website of the Deutches Filmmuseum it is listed as being out of stock. Shame, because 24.90 Euros for a hardback pushing 300 pages so stuffed with words and images is a virtual giveaway.