Agitator: The Cinema of Takashi Miike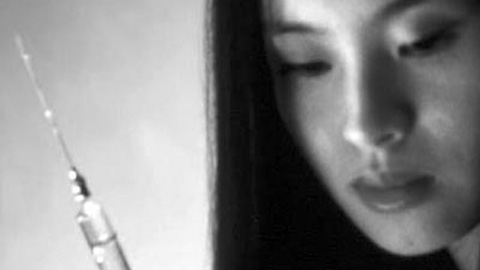 "Tom Mes's book is a fascinating and passionately argued look at the work of one of contemporary cinema's most important artists. An essential purchase for anyone wanting to know where cinema is heading in the 21st century"
—Pete Tombs, Author of Mondo Macabro
Agitator - The Cinema of Takashi Miike — The groundbreaking book by Tom Mes
He has been praised and reviled, hyped and ignored, lauded and censored. But rarely have the films of Takashi Miike been properly studied. Agitator - The Cinema of Takashi Miike finally fills that gap by being the world's first study devoted entirely to the work of this director. Written by Midnight Eye's very own Tom Mes, with full cooperation from Takashi Miike himself, it details the entire body of work of this highly prolific filmmaker, whose films are provocative but also remarkably consistent.
Agitator - The Cinema of Takashi Miike is available now from FAB Press.
At 408 pages, including 8 pages in full colour, Agitator - The Cinema of Takashi Miike is an exhaustive, richly detailed and impeccably researched look at the work of one of the world's most talked-about filmmakers. It includes:
In-depth analyses of every Miike film ever made, including theatrical, video and TV productions
Takashi Miike's own diary of the making of the controversial Ichi the Killer
A career-spanning interview
A look at Miike's work as actor and producer
A complete filmography, with cast and crew details and release info
Detailed information on DVD availability
Foreword by Makoto Shinozaki
Afterword by Shinya Tsukamoto
Over 150 stills and illustrations, including photos from Takashi Miike's private collection, and brand new photographs of the director taken exclusively for this book.
And more...
Agitator - The Cinema of Takashi Miike is available now from FAB Press and at book stores everywhere!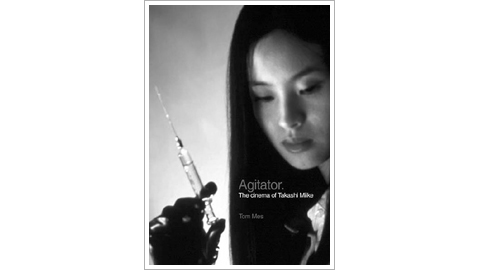 Now in its third printing, Agitator - The Cinema of Takashi Miike by Tom Mes is garnering praise all over the world:
"A passionately argued, jargon-free overview of all of Miike's work [...] Highly recommended"
—Chuck Stephens, Film Comment (USA)
"A thorough, passionate and expert analysis. ***** (Five stars)"
—Empire (UK)

"An impeccably researched and exhaustively thorough look at one of the single most vital forces in international cinema right now."
—Ain't It Cool News (USA)

"The essential text on Miike so far"
—Ikonen (Germany)

"An extensively researched, cinematically literate, highly welcome addition to the slim shelf of books on contemporary Japanese films."
—Mark Schilling, Cinemaya (India)

"Remarkable"
—Les Inrockuptibles (France)

"Tom Mes of Midnight Eye has done more than just written a book about Miike, he's created the very Bible of Miike's life. 5 out of 5"
—KFCCinema.com (Canada/USA)

Interview with author Tom Mes

By Nathan Tyler

How did you discover the films of Takashi Miike? And what were your first impressions of the filmmaker's work?

I saw my first Miike film in early 2000, at the Rotterdam Film Festival, which would become his big international breakthrough. They were showing three Miike films that year, including Audition. But the first one I saw was Dead or Alive and it just knocked me out cold. I remember coming out of the theatre full of energy. Seeing that film with no preconceptions about what it was or who its director was, was an incredibly invigorating experience. Then when I saw Audition a few days later, there was no way back. His movies were so full of guts, so full of invention and just pure joy, they really impressed me deeply.

When did you make the decision to write a book about Miike?

It came from watching the films, really. I went to Japan in 2001 and found a lot of his films on video and DVD, rare stuff that was never released outside Japan and still isn't for the most part. Watching those, I started to notice all these very consistent themes and motifs in his work. Once I managed to get a handle on exactly what those themes were and how they interacted, and once I realised that I'd never heard or read anything about that aspect of his work, the decision was made pretty quickly.

What was the process of writing the book like?

A lot of movies to watch! I probably spent more time watching his films than writing about them, because he's made so many. The start was like I said, discovering the recurring themes in his work. At first I thought I would write a magazine article about it or something, but it quickly expanded into something much bigger. Once I'd decided I was going to do a book I started contacting the Japanese distributors of some of his films to see if they would help me find the films I still missed. The response was really positive, which certainly lifted a weight off my shoulders. It's one thing wanting to write a book, but you really need the support from the film industry, especially with a director who has worked for so many different production companies over the years.

I told Miike about the book in early 2002 at a film festival and he offered to help out any way he could, which was another great relief. I went to Japan again in the spring of 2002 to interview him, which turned into a 7-hour marathon Q&A session. During that trip I also miraculously managed to find all the films I was still missing by scouring every second-hand video store in Tokyo and Yokohama. I found the last one on the very last day of my stay! I then spent the entire summer and most of the fall of 2002 watching all the films again and writing the book. The actual writing took six months.

What's Miike like as a person, in real life?

I could have picked a worse director to write a book about, because he has been helpful beyond the call of duty. He's a very calm, friendly, down-to-earth person, who is a great conversationalist with an intriguing, almost philosophical outlook on life and his own work. At the same time he's entirely devoid of pretension. He was very genuinely surprised when he heard I was writing a book about him, he just never considered that anyone would look at his work in such a way.

Was it easy inking the deal with FAB Press? Were you also sending it around to other publishers before FAB picked it up, or were they your first choice?

FAB was my first choice and things went very smoothly with them. I chose to send it to them first and they immediately said yes, so I was very lucky. The reason I chose FAB is because I had the feeling that they would be open to a book about a director who wasn't yet universally recognised, but who nevertheless had a growing audience. FAB seemed to be very dedicated to publishing quality writing on filmmakers that the majority of publishers would ignore. And it turned out Harvey Fenton, the owner of FAB Press, was really interested in Miike's work and knew about him from back in the days when Fudoh was first shown at the Fantasia festival in Canada. He too felt that there was a lot more to be said about this director than what was being said, so he's been very supportive of the things I tried to achieve with the book, which was to bring discussion about Miike's work to an entirely different level.

What is your favourite Takashi Miike film, and why?

I have two absolute favourites. One is Dead or Alive 2, which is an incredibly, meticulously well-constructed film that manages to be touching and human at the same time. The more you watch it, the better it becomes. The other is completely unknown outside Japan and doesn't even have an English title. It's called Kishiwada Shonen Gurentai - Bokyo, which translates roughly as 'Boy hooligans from Kishiwada - nostalgia'. Kishiwada is a working class neighbourhood of Osaka, very similar to the one Miike himself grew up in. The film is set at the end of the sixties and portrays a couple of months in the life a 12-year-old boy, without all the phoney rites-of-passage bullshit. It's extremely funny and sad and violent all at the same time, and it borders on criminal that this film isn't available to a wider audience.

(Nathan Tyler is a Toronto-based writer, journalist, and editor. His articles, essays, and reviews have appeared in Rue Morgue and Fangoria, and he is currently working on his first book.)

"A book that dispenses once and for all with the notion that the Japanese director is sufficiently defined with the words hype or fad."
—Schokkend Nieuws (Holland)

"This is an amazing book that all Takashi Miike fans and readers interested in Asian cinema should get now!"
—Gorezone.net (USA)

"Essential reading for those already interested in Miike and those who wish to learn more about him."
—Mad Movies (France)

"an in-depth study on Miike: the filmmaker and cultural figure"
—Sundance Channel (USA)

"Agitator sets an amazingly high standard for future Takashi Miike critics and scholars."
—The Alien Online (UK)

"**** (Four stars)"
—Hotdog (UK)

"Un must have."
—Pur Ciné (France)

"Bloody good"
—The New York Post (USA)

Table of Contents

Foreword by director/critic Makoto Shinozaki

Introduction

Chapter 1 - The Dirt Bike Kid

Takashi Miike's early years, from his first experiments with frogs and firecrackers at age 5 to getting his first shot at directing 26 years later. With exclusive photographs from Takashi Miike's own collection!

Chapter 2 - Themes in the work of Takashi Miike

Chapter 3 - The Video Years 1991-1995

An in-depth look at his early made-for-video films, from 1991's Eyecatch Junction to 1995's Osaka Tough Guys.

Chapter 4 - The Outlaw Director 1995-2002

Even more in-depth, individual analyses of all Miike films and TV series from 1995's Shinjuku Triad Society to 2002's Deadly Outlaw: Rekka.

Chapter 5 - Stray Dog

Miike as actor, producer and other non-directorial activities.

Chapter 6 - Ichi the Killer production diary

Takashi Miike's own diary of his experiences making the notorious Ichi the Killer.

Chapter 7 - "I can't pretend to know what I'm doing"

A career-spanning interview with Takashi Miike.

Chapter 8 - Filmography

A complete filmography with cast and crew credits, running times, Japanese titles, release info and more.

Appendix: DVD Releases

Detailed information on all existing DVD releases of Miike's films, with info on region coding, subtitles, extra features, etc.

Afterword by Shinya Tsukamoto

"The first book to be published about Japan's bad-boy helmer is a delight."
—Total Film (UK)

"If you're interested in Miike, Agitator is an indispensable guide"
—Blackstar Review (USA)

"Mes's work commands respect."
—De Filmkrant (Holland)

"highly informative"
—Artistswithoutborders.org (USA)

"A truly exhaustive guide"
—Jonathan Clements (Author of The Anime Encyclopedia and The Dorama Encyclopedia)

Agitator - The Cinema of Takashi Miike is available now from FAB Press.
Availability
Agitator - The Cinema of Takashi Miike

Author:

Tom Mes

Publisher:

FAB Press
Buy at: