The Anime Encyclopedia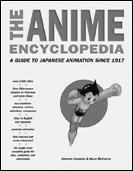 Author

Publisher
Published

16 February 2004
In terms of the most endemic of Japanese film genres, the anime film, there's absolutely no way anyone's going to top Jonathan Clements & Helen McCarthy's The Anime Encyclopedia, a remarkably thorough guide to Japanese animation films and TV series since 1917. Both writers are highly respected in the field, having both edited magazines on the subject, while Clements worked as translator and subtitler on a host of anime releases. Both additionally won the Japanese Festival Award for outstanding contributions to Japanese culture, and from the evidence presented here it's not hard to see why. Featuring over 2000 in-depth reviews, this book is very good indeed.
Though the works of leading animators in Japan such as Hayao Miyazaki and Isao Takahata can by now be found in many a western household, there's a hell of a lot more out there that hasn't made it outside of Japan yet, and this book covers pretty much of all of it. As someone who knows precious little about this vast subject, listed amongst more familiar titles that have achieved theatrical releases such as Akira and Ghost in the Shell, I was pleased to see such childhood favourites as Battle of the Planets, a long running TV series better known as Kagaku Ninjatai Gatchaman (trans: Science Ninja Team Gatchaman) in Japan that played in the US and UK during the 70s.
More cutesy stuff such as the Pokemon franchise is covered alongside the Japanese TV adaptation of the Moomins, which apparently elicited the ire of the Finnish children's writer behind the original books Tove Janssen, who protested against the minor violence and anachronisms in the first series in 1969. There's also animated adaptations of Louisa May Alcott's Little Women (1980) and Johanna Spyri's Heidi (1974).
And the depressingly large amount of those who think that Japanese animation is all about young girls being raped by giant penis monsters (an impression promoted by the Urotsukidoji / Legend of the Overfiend series of films that seem to have a far higher profile over here in the English-speaking world than they do back home in Japan) will not be disappointed either. Though the idea of adult-oriented cartoons may seem pretty bizarre for those of us weaned on Bugs Bunny and Mickey Mouse, details of mid-80s anomalies such as Lolita Anime and the Cream Lemon series make for some pretty elucidating reading.
The Anime Encyclopedia will prove to be a vital reference tool, though my only complaint is the absence of colour stills. The book might also have benefited from some historical background into the emergence of animation in Japan and the subsequent development of japanimation, though developments such as the first animated TV series in 1961, Instant History, and Nagisa Oshima's seemingly uncharacteristic foray into the field, Manual of Ninja Martial Arts (Ninja Bugeicho, 1967) are all included amongst the reviews.