A Tribute to Kihachi Okamoto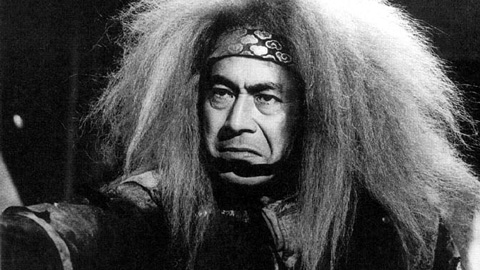 The death of Kihachi Okamoto brings us another step closer to the disappearance of a truly matchless generation of Japanese filmmakers. He was part of a group of men who not only made some of the country's most vibrant and defiant genre films, but who were also united in having experienced the horrors of war and battle at an early age.
Okamoto was a 19-year-old university student when he was drafted into the army in 1943 and shipped to the front at the height of the Pacific War. "You could say it's a miracle I survived the war at all, since statistics show that the largest number of people killed were those born, like me, in 1924," he said in a 1977 interview with Peter B. High. As in the cases of Masaki Kobayashi (born 1919), Kenji Misumi (1921), Seijun Suzuki (1923), and Yasuzo Masumura (1924), this battlefield experience would have an immeasurable impact on his later work as a filmmaker. It's certainly no coincidence that this is the generation that would take genre cinema into new directions in the 1960s, since it was their encounter with violence and destruction that led them to rethink the very foundations of genre film.
After the war Okamoto entered Toho studios in 1947, where he served as assistant director to Senkichi Taniguchi on the Akira Kurosawa-penned Snow Trail (Ginrei no Hate) before moving on to work with the rather diverse likes of Masahiro Makino, Mikio Naruse and Ishiro Honda. His own chance to sit in the director's chair came in 1958 with the melodramas All About Marriage and Wakai Musumetachi [tr: Young girls]. He quickly began to specialise in action films and directed three entries in Toho's successful Underworld (Ankokugai) series, featuring his first of many collaborations with Toshiro Mifune. The films paired Mifune with a young Koji Tsuruta, who after two entries jumped ship to join Toei, where he starred in a competing series of Underworld movies before going on to become the undisputed star of Toei's ninkyo eiga yakuza films. A big fan of John Ford, Okamoto began to model his action films on American westerns. Mixing this with his war experience, he delivered another bonafide hit with Desperado Outpost (1959), in which he transposed a cowboys-and-indians plot to the Manchurian frontlines of the 1940s. A sequel, Westward Desperado, followed less than a year later.
The Desperado films also featured a liberal amount of satire and comic asides, hinting at Okamoto's interests in comedies and musicals. However, after his Noh musical comedy Oh, Bomb sank, perhaps unsurprisingly, at the box office in 1964, he was forced to indulge in this particular love in roundabout ways. After starting work in the genre for which he is best known overseas, the chanbara, with 1963's Warring Clans, he began designing a very rhythmic approach to filming and editing action sequences. He carefully timed the placement of sound effects and music to fit camera movement and movement within the frame, creating a very rhythmic, almost musical whole.
Alongside his formal experimentations, Okamoto's Sam Fuller-esque exorcism of his war traumas in films would continue for much of his career. Not only in the large number of war films he directed (almost a third of his entire output), but also in his attitude to violence and human conflict in his other genre work. He was one of the main proponents of the wave of chanbara filmmakers that, in the wake of Akira Kurosawa, took a very critical attitude to bushido, the samurai lifestyle, and Tokugawa society in general. Starting from the early 1960s with such films as Kurosawa's Yojimbo (1961) and especially Sanjuro (1962) with its blood-spurting finale, Kobayashi's Harakiri (Seppuku, 1962), Misumi's Destiny's Son (Kiru, 1962), Masahiro Shinoda's Assassination (Ansatsu, 1964) and the Sleepy Eyes of Death (Nemuri Kyoshiro) series, the emphasis of the genre was no longer on honour and heroism, but on the death and misery that inevitably follow those who live by the sword and those who cross their paths. Okamoto's notable contributions to this epoch include Samurai Assassin (1965), Sword of Doom (1966), Kill! (1968), Red Lion (1969), as well as his very peculiar entry in the Zatoichi series Zatoichi Meets Yojimbo (1970), which matched Shintaro Katsu's blind swordsman with Toshiro Mifune's emblematic ronin.
With the end of the studio era in the early 1970s, Okamoto returned to a more diverse output as a free agent. He had made his first of three films for ATG in 1968 with the self-financed war satire Human Bullet (another two followed: Battle Cry in 1975 and At This Late Date, the Charleston in 1981), but nevertheless his interest in genre cinema on the one hand and music and comedy on the other continued to characterise his output. Often in close partnership with his producer wife Minako, Okamoto ventured into territories as eclectic as a science-fiction satire (Blue Christmas, 1978), a crime comedy (Rainbow Kids, 1991), a samurai western (East Meets West, 1995), and the tale of a quartet of black jazz musician lost in 19th-century Japan (Dixieland Daimyo, 1986). Okamoto's final film, 2001's Vengeance for Sale, saw him return to the chanbara genre, albeit with a generous comic slant. The film also reunited him with Tatsuya Nakadai, star of his most internationally feted film Sword of Doom.
By the time he made Vengeance for Sale, however, the director was already in ill health. After the stroke that felled him during the shooting of East Meets West, Okamoto also suffered from lung problems. He had plans for another film, for which he had already written the script, but it was not to be. He died of esophagus cancer two days after his 81st birthday, on February 19, 2005. With Kihachi Okamoto gone, plus the recent passing of film noir specialist Yoshitaro Nomura, the eternal non-conformist Seijun Suzuki remains the last active filmmaker of Japan's battlefield generation.
Kihachi Okamoto filmography
1958
All About Marriage (Kekkon no Subete)
Wakai Musumetachi
1959
Boss of the Underworld (Ankokugai no Kaoyaku)
Aruhi Watashi wa
Desperado Outpost (Dokuritsu Gurentai)
1960
The Last Gunfight (Ankokugai no Taiketsu)
Daigaku no Sanzokutachi
Westward Desperado (Dokuritsu Gurentai Nishi-e)
1961
Ankokugai no Dankon
Big Shots Die at Dawn (Kaoyaku Akatsuki ni Shisu)
Jigoku no Kyoen
1962
Operation X (Dobunezumi Sakusen)
Gekkyu Dorobo
1963
Warring Clans (Sengoku Yaro)
The Elegant of Life of Mr. Everyman (Ebunriman-shi no Yuga na Seikatsu)
1964
1965
Samurai Assassin (Samurai)
Fort Graveyard (Chi to Suna)
1966
Sword of Doom (Daibosatsutoge)
1967
The Age of Assassins (Satsujinkyo Jidai, a.k.a. Epoch of Murder Madness)
Japan's Longest Day (Nihon no Ichiban Nagai Hi, a.k.a. The Emperor and the General)
1968
Kill! (Kiru)
Human Bullet (Nikudan)
1969
1970
Zatoichi Meets Yojimbo (Zatoichi to Yojinbo)
1971
The Battle of Okinawa (Gekido no Showashi: Okinawa Kessen)
1972
Nippon Sanjushi: Osaraba Tokyo no Maki
1973
Nippon Sanjushi: Hakata Shime Ippon Doko no Maki
1974
1975
1977
1978
Blue Christmas
Dynamite Bang Bang (Dainamaito Dondon)
1979
The Last Game (Eireitachi no Oenka: Saigo no Sokeisen)
1981
At This Late Date, the Charleston (Chikagoro Naze ka Charleston)
1986
Dixieland Daimyo (Jazu Daimyo)
1991
1995
2001
Vengeance for Sale (Sukedachiya Sukeroku)