Go! Go! Yubari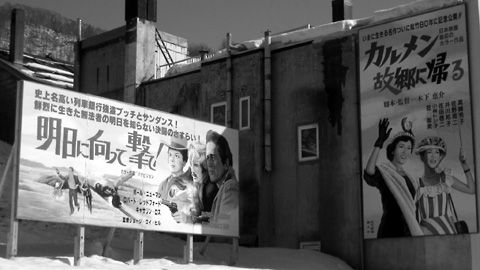 Up in the distant north of Hokkaido, amid snow-capped mountains and expansive forests, there is a town where the larger-than-life faces of movie stars greet you from hand-painted billboards on every street corner. Yet, this is a town that has known better days, a mining town once prosperous but now partially deserted. A town where most of the remaining population has left middle age behind them. A town of disillusionment, of broken dreams, of late-night drinking. But also a town of incredible warmth, of unparalleled hospitality, and of one of the best film festivals in Japan. Welcome to Yubari, Movie City.
Yubari has been home to the Yubari International Fantastic Film Festival for almost twenty years. The festival's first edition in 1990 boasted as special guest Hollywood actor Jon Voight, who arrived with his daughter, a then virtually unknown budding young starlet by the name of Angelina Jolie. Three years later, Quentin Tarantino visited the event, wrote part of the screenplay for Pulp Fiction in his hotel room and had such a good time here that he paid homage to the town and its festival ten years later, through the character of Gogo Yubari from Kill Bill Vol. 1.
Many an illustrious silver screen persona, ranging from Kim Novak to Steve Martin, has made the trek to Hokkaido in the intervening years. The glamour at the 2008 edition, however, was strictly homegrown: talent like Haruka Ayase, Keisuke Koide and Tomoko Tabata - the kind of names that foreigners never learn about, since their careers rarely last long enough to make an impact overseas. Yubari has had to scale down drastically, but it is glad to simply be alive. Last year, all seemed to have been lost after the city had filed for bankruptcy in the wake of the commercial failure of most of its initiatives to revive the old mining town as a tourist hotspot. The festival was dragged down with the rest of the town's publicly funded activities, and in 2007, for the first time in 18 years, Yubari had to go without its annual film festival.
The citizens of Yubari however, banded together to save the festival. They founded an association to bring back the event, organising it separately from the local government but with the enthusiastic support of a great many sponsors and film industry luminaries. The smaller set-up meant the prestigious international competition had to be axed, leaving the Off-Theater program - in which (mostly) Japanese first-time, indie and amateur directors vie for the Grand Prize and an accompanying two million yen financial boost - as the festival's only competitive section. But one step back may well mean two steps forward: with all the attention henceforth focused on these novice artists, Yubari's newfound role as a breeding ground for new talent may well strengthen its position within the Japanese film industry.
The festival has not entirely done away with Hollywood grandeur, as a number of titles in the main section attested - including There Will Be Blood, Juno and The Bucket List. Odd choices for a festival that brands itself "Fantastic", but in this distant corner of a country whose cultural life is resolutely Tokyo-centric, this will be the only occasion most people in the area will have of seeing these films projected on a big screen. No surprise that the townspeople chose to resurrect the film festival and not the defunct theme park - they were saving their town from what essentially amounts to complete isolation. The overwhelming enthusiasm and heartwarming hospitality of the locals are evident from the word go: they greet the arrival of the train carrying all the festival guests the way devout Catholics greet the arrival of the Pope - with chonmage wigs and bags of candy as an added bonus. (All the candy is made of melon, the local specialty, and even in winter it tastes as if it were made of fruit harvested that same morning.)
All this made being invited to be on this year's Off-Theater Competition jury a most delightful experience, one further heightened by the presence of several old acquaintances. One of these I have never actually met in person, but we have had a peculiar indirect awareness of each other through Kunihiko Tomioka of Planet Studyo Plus One in Osaka: Kenji Murakami, the director of Tel-Club and How I Survive in Kawaguchi City. Tel-Club was one of the films that helped spark the idea for what would become Midnight Eye when it was shown at the Rotterdam Film Festival in 2000, and I have tried, not without some difficulty, to follow his work ever since. At the festival's opening reception, we finally meet in person and the first thing he asks me is what I wrote in my review for Tel-Club all those years ago. I have to admit that I don't remember - or maybe I'm just trying to repress the memory of one of my paltry early attempts at writing film reviews. In any case, we agree to sit down for our first genuine conversation / interview a few days later, the results of which you can read here.
A further source of joy was the privilege of spending four days in the excellent company of my fellow jury members: Isshin Inudo - director of such delicate entertainments as Josee, the Tiger and the Fish and Maison de Himiko; Yuriko Hishimi - actress from the original Ultraman series Ultra Seven; and Puchon International Fantastic Film Festival director Han Sang-Jun. To be perfectly honest, I initially had no idea who Hishimi was (European TV in the 1970s was a largely tokusatsu-free zone) but judging from the reactions of every Japanese person I mentioned her name to in the weeks that followed - particularly those in the 35-50 age bracket - many would have traded their right arm to see her sing the Ultra Seven theme song at Yubari's only karaoke bar (certainly more than would have liked to witness me serenade "fetish queen" Chihiro Koganezaki with a rendition of I Wanna Be Your Dog. If only she had spoken enough English to understand the lyrics...).

The effect of the alcohol had thankfully worn off by the time it came to deciding the award winners. We had three prizes to give away: the Governor's Award (actually presented in person by Hokkaido governor Harumi Takahashi - watch for her at this summer's G8 summit, folks) went to Seikilos and I (Seikilosu-san to Watashi), an imaginative mixture of live action and animation that displayed an openness to foreign culture (albeit an imaginary one) rare in a Japanese film. Its co-director Kenji Itoso now works at Studio Ghibli and just finished the very Miyazaki-esque short anime Coluboccoro. Special Jury Prize winner was Coming with My Brother (One-chan, Ototo to Iku), by Kouta Yoshida, who impressed the jury with his ability to suggest infinitely more than he shows in this comedy-drama about brother-sister incest - an old hentai manga chestnut that feels fresh as a daisy here, helped in no small part by a magnetic central performance from Noriko Eguchi, of Moon and Cherry fame.
The Grand Prize, though, was one that needed little deliberation. It was unanimously bestowed upon a film that had the rhythm of an old Rolling Stones song, the power of an early Gaspar Noé film, and the sensitivity of a Simone de Beauvoir story: A Woman Who Is Beating the Earth (Daichi o Tataku Onna) by Tsuki Inoue chronicles the inner life of a woman who spends her days pounding meat in the kitchen of a fast food joint and her nights receiving beatings from her layabout boyfriend. She daydreams about being a drummer in a rock band, in fantasy sequences that are dazzlingly visualised with a great economy of means by director Inoue - who is quite obviously ready to tackle a professional feature regardless of budget and scheduling, and who provides further evidence that women directors hold the key to the future of Japanese film.