Udine Far East Film Festival 2013
The Far East Film Festival in Udine continues to be an excellent venue to catch up on Asian mainstream film in Europe. Udine, for those unfamiliar, is a town in northern Italy, accessible from Venice and Trieste. Apart from a couple of screenings, all films this year were shown at the main theatre and, apart from a few restored films of Hong Kong director King Hu, there was no major retrospective. The Teatro Nuovo is a spacious cinema and, reflecting the industry's changeover, all screenings were digital this year with excellent sound and vision.
There are daily Q&A sessions with visiting directors but Japanese film has to take its place alongside much of Asia's output, including an increasingly commercial Chinese industry. The following report takes the opportunity to comment briefly on a number of mainstream films that might otherwise escape notice.
First off from the Japan stable at Udine was 'Ore, ore', or It's Me, It's Me by Satoshi Miki, a director who previously was more often seen at the less populist Nippon Connection - and whose Turtles Are Surprisingly Fast Swimmers and Adrift in Tokyo have been reviewed at Midnight Eye. Miki was there along with pop-star Kazuya Kamenashi who played the lead role - and over twenty copies of same said character. Clearly, such a film could not have been attempted before the digital age. Hitoshi lives with his mother in a suburban high-rise and works in a sit-com version of an electronics store. That's the best I can put it - I don't think Miki wants us to take it as real. Tempted one evening in a hamburger joint to liberate the mobile phone of a particularly annoying fellow diner, he is soon enacting a classic mobile phone scam to steal a tidy sum from his victim's mother. We don't see the face of Hitoshi's victim, but further encounters reveal that Hitoshi (although he is our protagonist - we see and identify with him first) is but a copy of his victim, and only the first of some twenty more copies. A mysterious and alluring woman, played by Yuki Uchida, appears at the electronics store, Hitoshi lets her unsteal some booty from her bag, and more complications ensue with various co-copies, all acted by Kamenashi. It develops into something of a mystery thriller, all accompanied by facetious over-egging of supermarket-style muzak.
It must help if you're an uncritical fan of Kamenashi - at the Q&A session the next day, there really were fans swooning over questions as to what he had for breakfast - but, fortunately, Kamenashi had a plane to catch and we could soon ask Miki what it was really all about. Where were we, your Midnight Eye correspondent asked - located in Tokyo, or de-located? 'Good question,' Miki said 'I was identifying with those who had come up to Tokyo and for whom the suburbs and public-housing were the Tokyo they knew.' Miki, in his new film, continues to be deliberately poised between sit-com and a more intellectual satire, but his viewpoint has still a hard road to get acceptance outside Japan, I'd say. Even so, the film will do no harm to the career of either Miki or Kamenashi.
Next morning at the Teatro Nuovo came Angel Home. I always do my best to forget all prior descriptions of movies by the time the lights dim, hoping to see the film naked, as its makers intended. So some pulled expressions of the characters made me think for a second that I was in for another sit-com but, in fact, the characters were far more interesting. The blurb described it as "a home for the intellectually disabled", although the phrase hasn't entered British English yet, where 'mentally impaired' is more usual. It's set in flash-back structure, starting with staff attempting circumlocutions to avoid stating that the love of one of the residents was dead. We then go back to events prior. The film succeeds in presenting a drama with engaging characters. The work started as a successful play by Takayuki Takuma and, in one of the best traditions of mid-twentieth century cinema, we get a set-based rendition, whose location wisely stays within the four walls of the home throughout the story. The end is still shocking, despite the drama's circular structure, and made me reconsider a number of issues long after. The cast is largely taken from the play's run, including Shihori Kanjiya, Naoto Takenaka as well as Takuma. The film and play's Japanese title is Kuchizuke, or 'Kisses'. The film version was directed by Yukihiko Tsutsumi, a director with a line of mainstream releases, although his 2003 film, Chinese Dinner, also based in one room, was reviewed here by Tom Mes.
G'mor Evian! was never going to be my kind of movie, so the next item on the agenda should not be taken as a final judgement. It's a melodrama around a 30-year-old mother, and her teenage daughter who, as Mark Schilling's blurb accurately says, "is the only grown-up in her single-parent house". That statement still holds true when an old flame of mother's returns from a drift around Thailand and Australia. The nominal adults, played by Kumiko Aso and Yo Oizumi, once played in a rock band. We hear the daughter, played by Ayaka Miyoshi, have intelligent discussions about music and such figures as Janis Joplin. So, when we finally got to the inevitable reunion gig at the end, it's a severe disappointment to find that their genre is a sort of family-friendly J-pop. And our drifter can't play an instrument and can't sing to save his bacon. What a loser. Aso also played her role much too 'nice' for a mother going round in a 'Fuck Off' T-shirt. The film was directed by Toru Yamamoto and was released in Japan in December 2012.
Maruyama, the Middle Schooler (Chugakusei Maruyama) was billed as a 'Self-fellatio comedy'. Someone - Japanese - just behind me found it funny. Perhaps it works somewhere as a game-show style comedy, playing on the persona of Tsuyoshi Kusanagi, who had a "well-publicicized drunken, naked romp several years ago in Roppongi park". It's written and directed by Kankuro Kudo, who scripted Ping Pong and has a large comic reputation in Japan.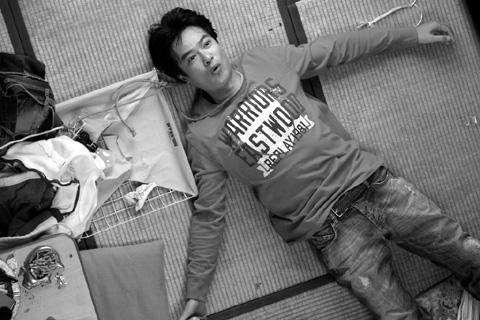 The Key of Life was much more of a class act. Once the slightly improbable start-point has been set up, it becomes a sophisticated comedy of manners. A coolly efficient, and very wealthy hitman hits his head on a stone floor and loses all memory of his identity, which is stolen by a hapless out-of-work actor. Teruyuki Kagawa is superbly cast as a man, suddenly without a past, who has no choice but to 'rediscover' his apparent identity as an indifferent actor, which he does with humility and application, helped by a fortunate friendship with the equally earnest and well-cast Ryoko Hirosue. Meanwhile, our barely-working actor, played by Masato Sakai, makes a hash of playing his new role as a highly profitable 'businessman', despite having no compunctions about the ethics. Things start to get heated, with much plot suspense, when our hitman's major customer, a gangland boss, starts to get nasty. This part is played well, and absolutely straight, by Yoshiyoshi Arakawa. Leaving all his considerable comic acting beside him, but retaining his sense of timing for a straight role, he gives weight to the accelerating plotting around him. But there's a romantic interest in this mixed-genre piece. The film had actually started with Hirosue's character announcing with all seriousness to her work-team, that she had set herself a deadline of a husband within the month (and with no one in view). The scene closes to the overture to Mozart's Marriage of Figaro, which gives the right tone of classical comedy and plot-twisting to the second scene of identity-swapping which occurs in a bathhouse. The spare and intelligent use of music in this film is a major factor in its success, and stands in strong contrast to much of current Japanese popular films. But rest assured, there are even more twists than in Beaumarchais' play. And the ending is neat but not tidy, and not as promised. The Key of Life is written and directed by Kenji Uchida, who spent four years on its preparation, after A Stranger of Mine and After School. Its Japanese title - Kagi-dorobo no Mesoddo, might be translated as 'Method [acting] for a key-thief'.
The Story of Yonosuke (Yokomichi Yonosuke) was a fetching film despite - or possibly because of - making no great claims. As a coming-of-age drama, it starts, absolutely conventionally, with the protagonist, Yonosuke Yokomichi arriving at an unfashionable Tokyo university in the 1980s. There are a few flash-forward scenes that set up an unreasoning hand of fate which we want explained. But this is a film about acceptance, not questions and answers. It obviously helps that the main character is likeable and Kengo Kora must have been doing more with his role as the ingenuous Yonosuke than I noticed. There were some unnecessary scenes and too much samba for my taste but generally scenes were not over-run. One scene at least might have been played out further: Yonosuke goes for an evening stroll with a friend from college who clearly would rather be alone. Eventually said friend has to explain that his purpose in the park is cruising and even needs to explain to Yonosuke what that means. The scene fades with Yonosuke and friend eating water-melon in the park without Yonosuke feeling the slightest need to retreat or advance. That acceptance, as I get it, is the point of Yonosuke. The film was actually the sparest of all in its use of non-diegetic music, at just three brief punctuation marks in a film of over 2 ½ hours. I strongly got the feeling of time and passions passing slowly in youth, and accelerating afterwards. Somehow, I was won over by a film about a student who didn't engage with his Business Administration degree, and for whom we never even discover what he did afterwards. So there was even a gap left for a sequel. The film was directed by Shuichi Okita from a novel by Shuichi Yoshida.
Perhaps someone who can take Hideo Nakata's The Complex seriously could kindly write a review for Midnight Eye. Apparently the very loud grunts and bangs coming from the cinema's loudspeakers were supposed to let you suspend disbelief. I couldn't see that anything had really changed since Dark Water (2002) but I expect the film is aimed at a generation that wasn't around then. I didn't stay. The title refers to high-rise public housing, which we have already visited - and to which we will return.
See You Tomorrow, Everyone's Japanese title (Mina-san, Sayonara) conveys a worldview stuck in primary school. In Yoshihiro Nakamura's film we are shown the world of a teenager who never leaves the confines of one high-rise estate and so never even attends middle school. At the beginning we are shown clips from what seem to be real PR films of the 'danchi' - housing projects for 'overflow' post-war populations. The films looked comparable to similar ones for European post-war New Towns. As the story progresses through a period of some ten years, we see physical and social degeneration in the danchi. Inexorably, the hundred or more members of Satoru's year who graduated from primary school leave for a wider world, whilst he remains tied by invisible strings to the apartment with his mother.
Credit must be given to Nakamura for going for such an unsexy subject. And, to boot, such sex as we see is decidedly unsexy. Essentially what I saw was a representation of mental illness with a few bolt-ons at beginning and end. There are flashbacks to a 'horror attack' at the primary school that wouldn't really have produced Satoru's symptoms. These were accompanied to the same stock groans and squeaks as in The Complex - perhaps Nakamura could get them at trade price, after writing the script for Dark Water. The bolt-on resolution at the end employed the conventions of both sit-com and chambara. I also found Satoru's mother far too rounded and complete a character for the story. The whole film however was a bravura performance by Nakamura's regular actor, Gaku Hamada.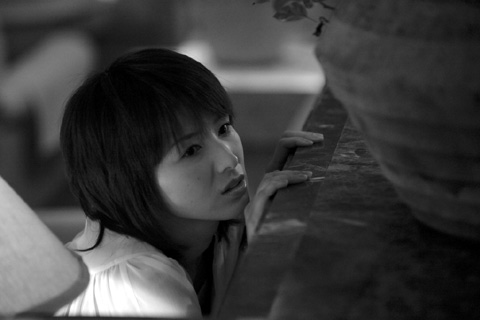 Girls for Keeps - just Garu in Japanese - is a polished, slickly made, big-city based comedy with romantic interest. Any resemblance to Sex in the City is, in my view, entirely intentional. I wouldn't know how much sex made its way from that series into any Japanese TV airing, but in this film, that accessory is really only talked about, but generally the film delivers what it promises under its glossy skin. The leading male characters were (1) an attractive chauvinist you love to hate, (2) an even more attractive but unobtainable youth, (3) an engineer who is always in oily rags and (4) a house-husband - all of whom were portrayed in their workplace. That's something quite unusual and to be commended - it shows that popular Japanese film is finally beginning to progress beyond the usual stereotypes. Oh yes, the women were also portrayed in their workplaces, but that's not so unusual. They were ably played by Karina, Rosa Kato, Kumiko Aso, and Michiko Kichise. The cross-cutting between the women's stories meant that scenes did not noticeably over-play. Director Yoshihiro Fukagawa was new to me.
The Floating Castle (Nobou no Shiro) was a big-budget period action film that has had something of its own history. A good-looking film bringing modern production values to the tradition of Japanese jidai-geki, and making specific nods at Kurosawa's Ran, it's set just before 1600 when Hideyoshi was in the last stages of imposing military dominance over Japan. The story concerns the real historical struggle for a castle on the marshes of the Kanto plain - modern-day suburban Tokyo again but, courtesy of CGI and location-filming in Tohoku, there's nary a danchi to be seen until the coda. It will not entirely surprise you to learn that the defenders put up a brave fight. But that's not the point - it's not the story, it's how it is told. And Floating Castle has some spectacular battle scenes, likeable and colourful heroes, a wholesome and appealing princess (or similar), and nefarious villains who - what do you know - learn to respect our heroes by the end. You get your money's worth. But the film was not released in Japan until November 2012 - some two years after most of the film was made, and hereby hangs the real tale.
In the real battle of Oshi castle on the flood-plains of Kanto, water-control was used both in defense and attack. It was this aspect that first attracted Shinji Higuchi, 'Special-effects wizard', to the script of Tomio Hayashi. Nothing much happened until Hayashi published the story as a novel and it became a hit. Then the project became financeable. But in the age of digital film, it's not enough for the water-level to go up and down. We must have two spectacular high-level dam-bursts with cubic miles of water crashing down from great heights. First we see Hideyoshi use CGI-weaponry in western Japan, then his henchmen get the idea for Oshi castle. In 2010, for the tens of millions of people who live nowadays on the flat Kanto plain, you might have thought the focus groups would have told the producers that they had a credibility gap, but apparently the special effects now rule everything.
But then came the real disaster of the tsunami of March 2011, in which tens of thousands of the inhabitants on the Tohoku coasts died, including many of the extras in Floating Castle. With the film unreleasable, but the memorialization of those who had died so vital, one might have thought it was time to take a hard look at the special effects. Why not have floods less tumultuous, but more convincing for the story, that might have been produced by the technology of 1600 where the waters would slowly rise and ebb? Even a pause or two in the story need not be fatal. Kurosawa's Seven Samurai was immeasurably improved by the pauses in the struggle, where the underlying divisions in the defenders were revealed. Quite the best motif in Floating Castle is something comparable - most of the defenders hadn't intended to resist but were cornered by events. And the rise in the waters around the Floating Castle would have been particularly slow due to a strange absence in its visuals - rain - something to which Kurosawa put particular use.
But such a course is only in my imagination. What actually happened in 2011 and 2012 was nothing. The investment in the CGI was evidently too tied up. Then, in December, the film was released with all the CGI plus a coda in modern-day Tokyo to show, apparently, that life continues.
There was an opportunity the next morning to question the makers of this film. Your correspondent wanted to ask director Inudo (Josee, The Tiger and the Fish, Maison de Himiko, Zero Focus, etc.) about his handling of the actors, his thinking, and whether he would ever - ever - co-direct with a 'special effects wizard' again. But, alas, it wasn't Inudo but his co-director there. So I had to ask Mr. Higuchi if he would tell us how the co-direction came about. That's when I learned about scriptwriter Hayashi. We also learnt that Mr. Hayashi has no more interest in film scripts, now he's a successful novel-writer. I couldn't think why, but Midnight Eye pressed the point: what of Mr. Inudo? Ah, yes, more of a brotherhood than a marriage…
There is no shortage of cases in the history of cinema where a film has been made, not one way, but another, with different actors, due to industry and studio tie-ups, or even because the actress or actor had bought up the rights. But from now on, film people can expect to lose sight of their careers when their digital rivals know more of the right people.