Yubari Hangs Steadily On
For a time the future of the Yubari International Fantastic Film Festival was uncertain. The small Hokkaido town that serves as the festival's home turf went bankrupt in 2007, resulting in the cancellation of that year's event. The town and its inhabitants received a lot of sympathetic attention in the media, resulting in the arrival of new sponsors and the survival of what is perhaps Japan's most fun film festival.
I had the honor of serving on the jury at the 2006 edition, just before the bankruptcy, so I was eager to go back and revive my memories of outdoor hot stove parties and the snow-covered scenery, which resembles my native Finland. Yubari may not have the red carpet of the Tokyo International Film Festival (where would you put it in the snow?), or its glitzy evening gowns (instead they hand out mittens and scarves with the festival logo), but it is one of the best festivals to actually have fun with the filmmaker guests. Socializing is a big part of the event.
Big local premieres included Takashi Miike's Crows II, with a big crowd of its stars popping up in their ubiquitous school uniforms all over the place, Slumdog Millionaire, Frost/Nixon and the effectively scary Korean blockbuster The Chaser.
Non-competition Forum Theater screenings brought together Japanese and some foreign directors, who work in independent genre productions, turning out horror, action and sci-fi on often shoestring budgets. The biggest crowd gathered for the screening of Kiyotaka Taguchi's G, a 48-minute monster film in the style of Godzilla, which took eight years to make.
This year's Off-Theater Competition jury consisted of director Banmei Takahashi, Puchon's PiFan festival programmer Kwon Yong Min, Wong Kar Wai's still protographer Wing Shya, Ring 0 director Norio Tsuruta, and actress Makiko Watanabe.
The Grand Prize went to director Yu Irie's film 8000 Miles (SR Saitama no Rappa). Irie's former films include the very ominously titled (thinking of recent news) Japonica Virus (2004). 8000 Miles is a story of a young man who puts together a rap group. The joke is that they happen to live in the outskirts of the Tokyo satellite town Saitama, which is a far cry from such fashionable youth spots as Shibuya, where hiphop culture thrives. The most hilarious scene involves the local town council asking the group to come and teach them about youth problems.
Our Saitama rappers may not understand much about political issues, but the film does reflect honestly the feelings of young adults in the recession era, the freeter generation. Irie himself is from Saitama, which he left at 19 to go to Tokyo and study filmmaking. The characters of 8000 Miles, who find a dream in their rap group, reflect his feelings of those days. Irie returned to his hometown to make the film and asked locals to act as extras and in smaller roles. The film also puts the generic suburban/half rural locations to great use. For the director, this film was to be a rediscovery of his hometown roots.
Special jury prize went to Hajime Ohata's A Big Gun, and the Hokkaido Governor Prize to Choi Weean's Today and Other Days.
Last year's Off-Theater Competition winner Tsuki Inoue (The Woman Who Is Beating the Earth / Daichi o Tataku Onna), was back with two films. Her short film was titled Mademoiselle Audrey, the title being a play of words on the similar pronounciation of the French name Audrey and the Japanese verb "odoru", to dance. The film centers on the moment when a retiring ballerina is waiting for the curtain call to her last performance in Paris.
Inoue's first long feature, Autumn Adagio (Fuwaku no Adagio), features the same lead actress, musician Rei Shibakusa, now playing a middle-aged catholic nun. Having turned 40, she is concerned about menopause, but finds new horizons opening up when she takes a side job as a pianist at a ballet school. The film is a very thought-out meditation on spiritual salvation, the human body, sexuality, and women's different life stages (several women of different ages, ranging from pre-teen to elderly, appear in the film). In a Q&A with the audience Inoue said that the theme of menopause needed a long feature, as it was difficult to depict in a short film. One of the ways to visualize the theme was to shoot it in the fall.
Watching these three films back-to-back, it is clear how visual Inoue's style is, and how important color is in her films. Some scenes silently create interesting contrasts: how the nun prepares her Japanese meals, washing rice in shots reminiscent of Vermeer paintings.
Midnight Eye had the opportunity to interview Tsuki Inoue in Yubari.
Tsuki Inoue interview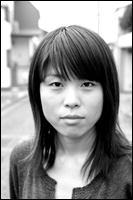 You studied first ballet, and then visual art. How did you end up making films?
I started with ballet and art, and I also did theater. After I graduated from university, I worked as a staff member for stage productions. After that I worked as an assistant to an actress, and that was when I got involved in film production for the first time. I decided that that was what I wanted to do. Whatever I wanted to express, I felt that instead of my former dancing and writing, film was more real.
But originally you wanted to be a ballerina? For how long did you pursue it?
I started when I was four. I was born in Kyoto, but when I was 12, I decided to become a ballerina and came alone to Tokyo and enrolled in a ballet school. But in the end I did not have enough basic studies behind me, my pose was not good enough, and I also developed hip pain, so I decided to quit.
Are the dancers appearing in Autumn Adagio friends from that time?
No, they are not my friends. I phoned up professional dancers and asked them to be in my film.
In Mademoiselle Audrey, how did you come up with the story of a Japanese ballerina in Paris?
There are not many Japanese ballet dancers working abroad. There are many Japanese ballerinas, but I think that when they go abroad, they get complexes about their body, like having shorter legs as compared to Western dancers, and they also experience feelings of solitude there. There are very few Japanese lead dancers working abroad, except Miyaho Yoshida at London's Royal Ballet.
I saw an episode of the NHK program 'Professional', about a Japanese male ballet dancer who dances in Moscow's Bolshoy Theater, Morihiro Iwata.
Actually, I used his father's ballet school in Fuwako no Adagio as a shooting location.
Elements common to all your films are music and dance. You said during the Q&A that you would like to make a musical.
Yes I would like to make one. So far there haven't been many good Japanese musicals. Since I used to dance myself, I think I could do it differently.
Why do you see film as the closest art for you now? Or which is the closest art form for you?
All elements come together in film. There is art, theater-like elements, music, all these aspects come together in cinema. But it is difficult. I haven't acquainted myself completely with the art of film yet.
What is the New Cinema Workshop that you attended?
It's a film school in Tokyo. First we studied making 16mm films, the second project was to do a film totally by yourself using a camera and a computer.
Did you have any famous directors teaching there?
There were guest lectures, but no practical teaching by them. We learned by making films ourselves.
What type of films or directors do you admire?
I like all kinds of movies, but closest are movies centering on human drama, films where you can feel identification with the main character's feelings. Last year I saw Hirokazu Kore-eda's Still Walking, and I thought that was wonderful. Another one I liked was Ang Lee's Lust Caution. I like these type of European-flavored films, their colors and style, and because they rely less on dialogue and more on imagination.
Have you shot other films?
Autumn Adagio is my fifth film. My third film was a combined music video and short film for the singer Jun Shibata. In this the main character is male. One song is about aching for love after separation. I turned it into images of a bad man chasing the main character.
What do you think of the category 'woman filmmaker'? There are not so many in Japan.
That is true. I don't really care, I can be called whatever, but I don't make films only about women. This time I made a film about a person who happens to be woman. But I don't have a preference for making films about women. This time I wanted to make a film with this particular woman, but in general I don't seek to make films about women.
You chose for Autumn Adagio the theme of menopause. The season in the film is fall...
For us Japanese the seasons are important. When I thought about the sentiment of the film, it was fall without a doubt. Fall is going away, whereas spring is becoming. During one year there is an evolution, a life cycle.
The theme, menopause, has not been pictured in films.
It hasn't. It is not really said aloud in this film either, because I was not interested in making an educational film. I wanted it to come through naturally. If the viewers can understand that, it's fine. I wanted to use a soft approach, not to force it upon the viewer.
Christianity comes up in the film. Did you study it before shooting?
That was central to the film. The story combines religion with women's bodies, which is a taboo subject. My own home background is Buddhist, but I am not really religious. I felt that I had to study a lot about Christianity. I went to a church, listened to the priest, and talked with Christian women. As I don't have knowledge about Christianity, I had to understand it. I was also wondering, if, when seen from outside, Japanese people doing Western things like being a nun or dancing ballet, looks odd. In the film these two worlds co-exist, for example in how the nun eats sitting in the seiza position. And how the gardener Muraoka, in one scene, looks like he;s hanging on a cross. He looks a bit like Christ in the film. I asked the actor to slim down and grow a beard for the film.