Getting Wild With Our Monkey
Year

2002
Original title

Kemonogare Orera no Saru to

Japanese title

Director

Cast

Running time

107 minutes
Published

2 April 2003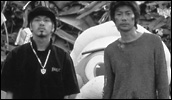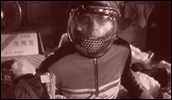 They say football (or soccer for our American readers) is a game of two halves. Your favourite team may be ahead after 45 minutes, but you never can tell what the final result will be after 90. Occasionally that holds true to for cinema as well. Particularly in the case of Getting Wild With Our Monkey, which seems firmly on its way to becoming an absolute marvel, but which severely loses the plot (in both senses) in its second half.
Based on a novel by actor/punk singer/novelist Kou Machida (a.k.a. Machizo Machida, seen in such films as Burst City and H Story), Getting Wild With Our Monkey starts off as a thoroughly deranged portrait of a hermit screenwriter. After his wife leaves him to go study in England, Sashi (Masatoshi Nagase) has the worst trouble simply keeping the house in order, even though the resultant clutter severely hampers his creativity. From the moment we meet him, his non-existent household skills have manoeuvred him into an impasse: his neglect has caused the trash to pile to the ceiling and the moths have transformed into Cronenbergian mutations that nibble at his flesh, but no end to his writer's block is in sight. When an aging film producer knocks on his door with an offer to write the script for "a social thriller set in a garbage dump" (he knows he's found the right man as soon as he sets foot in the writer's house), Sashi is forced to re-install some order into his life. This, after all, means money.
Intensely visual, with rich colours, manipulated images, zippy editing, and sets and costumes that use the design budget to their fullest potential, the film comes across as more humourous riff on Darren Aaronofsky's Pi, or a Fear and Loathing in Las Vegas without the drugs.
But Getting Wild With Our Monkey is not simply zany for the sake of it. The one-man show performance by Masatoshi Nagase at its center embodies the film's central theme: the isolation that befalls those who do not fit the social mould fashioned around the lowest common denominator. A freelance artist (could one possibly be more of a social outsider?), his feelings of seclusion from the world around him manifest themselves in hallucinatory visions of passers-by who act like extras from Invasion of the Body Snatchers and in everyone and everything around him failing to give him the light of day.
With all its elements holding together very nicely, Getting Wild With Our Monkey seems for a long time to become one of those unexpected delights that seem to come from nowhere and which have energy, inventiveness, and originality to spare. Alas, it is not to be. In the last 50 minutes, director Hideaki Sunaga loses himself in the weirdness and forgets all about the pacing, the inspired ideas, and the strong theme. Those last 50 minutes consist of only two scenes that are endlessly spun out and feel interminable without ever getting to a point, let alone making one. It seems its director only had inspiration to last him half a film, then let the camera roll with Nagase in front of it doing whatever came to mind. Throwing in a bunch of meaningless cameos by rappers Dragon Ash is, unfortunately, about as inspired as it gets. Two-thirds of Guitar Wolf had little to do in Wild Zero, but at least the audience was having fun.
Watching Getting Wild With Our Monkey is a bit like watching one of those calculated first-round Champions League footy matches, where the home team is 3-0 ahead by halftime, then spends the remaining forty-five minutes defending and passing the ball around. At least in football the crowd, despite the tedium, still sees its team win. In film however, it's far more preferable to see the goals scored in the final minutes than in the first. Maybe in the return match then, mister Sunaga? On the basis of your performance in the first half, I know I'd gladly turn up for it.