Gohatto
Year

1999
Original title

Gohatto

Japanese title

Alternative title

Director

Cast

Running time

100 minutes
Published

20 March 2001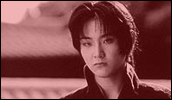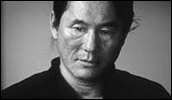 The old Japanese capital of Kyoto, 1865, towards the end of Tokugawa Period. The elite militia force Shinsengumi is recruiting fighters throughout Japan to suppress rebel samurai activity in the region and defend the shogunate. Two new fighters are inducted into the ranks, the fresh-faced Sozaburo Kano (Matsuda) and Hyozo Tashiro (Asano). Sozaburo's arrival causes quite a stir in the testosterone-heavy atmosphere of the troop-house, but military life is heavily codified and violation of these codes results in decapitation. However, there seem to be no shortage of contenders ready to lose their head over this young bishonen (pretty boy).
Director Nagisa Oshima's name should already be familiar to anyone with more than a passing interest in Japanese cinema - in fact world cinema in general - if only through his infamous In the Realm of the Senses (Ai No Koriida, 1976), probably one of the best-known Japanese films of the 70s despite (or more likely because of) its frankly pornographic approach. In Japan he is recognised as the most important director of his generation, spearheading the New Wave movement in the early 60s and 70s with films such as Cruel Story of Youth (Seishun Zankoku Monogatari, 1960) and Night and Fog in Japan (Nihon no Yoru to Kiri, 1960), as an angry young man attacking the establishment with radical politics and an innovative cinematic style.
After directing David Bowie in Merry Christmas, Mr. Lawrence (Senjo no Merii Kurisumasu, 1983), Oshima decided to divorce himself from Japanese culture and went to France to direct Max, Mon Amour (1986), in which Charlotte Rampling falls in love with a large ape. Since this, aside from two documentaries for British television (Kyoto: My Mother's Place, 1991, and 100 Years of Japanese Cinema, 1995), Oshima had been struggling to get further projects off the ground. After a stroke in 1995 looked set to put an end to his directorial career, Gohatto represents the 68-year old director's return to the big screen after a 13-year absence.
As such, expectations were high. Directed in the Shochiku studios from a wheelchair, the film's credits read like a who's who of the major players in Japanese cinema today. There's the box office lure of Takeshi Kitano in a major role, and Ryuichi Sakamoto (who played in Merry Christmas, Mr. Lawrence alongside Kitano) provides the score. The lavish costumes were provided by Emi Wada, who has previously worked on Peter Greenaway's Prospero's Books (1991) and 8½ Women (1999), and with Akira Kurosawa on Ran (1985) and Dreams (Yume, 1990).
That said, the end result is perhaps a little laboured. Gohatto suffers mainly from its over-talkiness, especially when seen in the context of the new breed of visual stylists such as Takashi Miike, and the endless recourse to expository inter-titles seems rather retrogressive. Oshima's approach to the visuals is straightforward, subservient to the lavish sets in this studio-bound epic. Obviously naturalism is not the order of the day, with the climax played out against an obvious artificial set of bamboo fronds swirling with dry ice looking like something straight out of a 1970s chanbara piece (sporadic flashes of violence result in geysers of blood in the Lone Wolf vein). It looks good, it's true, but at times it all seems a little too much.
The role of the Shinsengumi at the end of the Tokugawa period has been the subject of countless films. Oshima's revisionist approach to the material, adapted from Ryotaro Shiba's book Shinsengumi Keppuroku, of foregrounding the homosexuality inherent within the period is novel and perhaps typical of a director who, throughout his work, has always been interested in exploring social concerns within modern Japan by reference to other scenarios.
Historical pictures from Japan are rather thin on the ground recently, and this fact, coupled with the international reputation of the director (and a Golden Palm nomination at Cannes this year) should result in a fair amount of press for the film. There will be few people on the edge of their seats maybe, but Gohatto is certainly not without interest all the same.