Linda Linda Linda
Year

2005
Original title

Linda Linda Linda

Japanese title

Director

Cast

Running time

114 minutes
Published

15 June 2005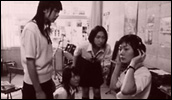 Movies about rock bands are an enduringly popular subgenre. The past 18 months have given us, in Japan alone, no less than four: Takanori Jinnai's Rockers, Tomorowo Taguchi's Iden & Tity, Toshi Shioya's Beat Kids, and, slightly further across the musical field, Shinobu Yaguchi's Swing Girls. Waiting in the wings is Kentaro Otani's Nana, a Kamikaze Girls-styled manga adaptation that pairs cute Aoi Miyazaki with rock chick Mika Nakashima and features Ryuhei Matsuda as a Sid Vicious clone.
The genre's raison d'être is obvious; with their handsome casts, their plots of young zeroes making it big, and their abundance of infectious pop tunes, they appeal directly to the kids that make up a large segment of Japan's cinemagoing audiences.
What distinguishes Nobuhiro Yamashita's Linda Linda Linda from the crowd is a refreshing modesty. Rather than the usual underdog struggle against the odds culminating, 'School of Rock'-style in the obligatory spectacular stage show and a fat recording contract, Linda Linda Linda's story revolves around four highschool girls for whom learning how to play a single song in time for the school festival represents the ultimate challenge.
Known for his deadpan comic minimalism, director Yamashita is an expert at turning the uneventful into the resonant. His previous films Hazy Life (Donten Seikatsu, 1999), No One's Ark, and Ramblers all featured aimless youth with nothing better to do than walk or sit around. Plot has never been much of a part of the young director's vocabulary, but the films were all the more memorable for its absence. Compared to these films, Linda Linda Linda is a move toward a more conventional narrative, but only slightly. It sees Yamashita finally shaking off the Aki Kaurismäki comparisons, while still holding on firmly to his own peculiar idiosyncracies. The result is a film that is refreshing both for the genre and for the director.
With the school festival coming up, three girls decide to form a rock band. Plans are quickly thwarted by the departure of their guitarist, who claims to suffer from an indistinct hand injury but actually fears for her carefully polished nails. Bassist Nozomi (real-life musician Sekine) and designated drummer Kyoko (Maeda) soon find stray keyboard player Kei (Kashii) to fill in on the six-stringer, which leaves only the crucial position of vocalist vacant. After several refusals, they sit around moodily on the schoolgrounds and decide to take on the very first passer-by as their singer. Conveniently ignoring the fat otaku who is indeed the first to cross their paths, the choice befalls their carefree Korean classmate Song (Bae). But Song can hardly speak a word of Japanese, let alone sing it. A discarded tape of Linda Linda, the mid-1980s hit song by pop punks The Blue Hearts, makes them look beyond their considerable shortcomings as musicians, and while the other three start learning their respective parts, Song sets off for the nearest karaoke bar to rehearse.
The script by Wakako Miyashita and the director's regular writing partner Kosuke Mukai wisely assumes that we already know where and how the four girls' musical venture will end and refrains from overly dramatising the proceedings. Don't expect a histrionic falling-out between the four ladies or jealous rivals sabotaging their equipment. Yamashita and his writers have the good sense of treating their audience like intelligent human beings instead of cartoon-fed children, and they treat the goings-on with a levelheadedness that is never less than pleasant and frequently a lot more.
Another major factor to the film's success is the casting of Korean actress Bae Doona in the role of Song. Several years older than her teenage co-stars and more accustomed to mature roles in the likes of Park Chan-wook's Sympathy for Mr. Vengeance and Hyeon Nam-Seob's Saving My Hubby, Bae easily outshines the rest of the cast. Her presence here is undoubtedly a by-product of the so-called 'Korean boom', the feverish interest in Korean pop culture that swept Japan in the wake of the 2002 Football World Cup that was co-hosted by the two countries, which has seen Korean soap operas, films, and pop music become a serious threat to the market shares of homegrown product and made film and TV stars from across the Korea Strait household names.
One pleasant side effect of this otherwise superficial trend is that the age-old prejudice against Korean minorities seems to be on the wane. No particular explanation is given for the fact that Song is Korean, it is simply an accepted fact. Instead of deflecting racism, she has to fight off the suitors, one of whom even memorises a few lines of Hangul hoping to impress her. That Bae Doona was cast in the role only serves to underline this point. It would have been much easier for a Japanese actress to learn what little Korean the character speaks than for Bae to speak and sing Japanese. Obviously there is a commercial factor at work here, but the producers could hardly be accused of taking the easy route.
Bae's presence is also rather exemplary of the film's approach to casting as a whole. Whereas films of this type are habitually populated by pretty idol types - and indeed form ideal vehicles for such ready-made starlets - Battle Royale's Aki Maeda is the closest thing to consumer-friendly cuteness among the four leads, while Sekine is refreshingly pedestrian, and Kashii possesses the kind of beauty that belongs to a bygone era, closer to Keiko Kishi than to Aya Ueto.
With all-girl Japanese rock groups like The 5.6.7.8's, Shonen Knife, and Melt Banana being regulars on club stages around the world, Linda Linda Linda arrives at exactly the right time for an attempt to conquer foreign audiences. True, to get full enjoyment out of the film it helps to know who The Blue Hearts are, but even for those entirely unfamiliar with the history of Japanese rock music, this film's infectious, three-chord charm will prove hard to resist. And that former Smashing Pumpkin James Iha provides the score won't hurt its international appeal either.