Moon Child
Year

2003
Original title

Moon Child

Director

Cast

Running time

119 minutes
Published

4 August 2003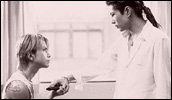 In his move from the softcore pink films with which he made his name to more conventional pieces, Takahisa Zeze has never quite got the formula right. The two transitional films Raigyo (1997) and Dirty Maria (Kegareta Maria: Haitoku No Hibi, 1998) were atmospheric enough, but recent films like the action comedy Rush (2001) and the romantic fantasy Dogstar (2002) have uncomfortably straddled the gap between the mainstream and the arthouse.
In this respect, Moon Child is something of a watermark for the director. It is certainly his biggest production to date, a pan-Asian collaboration produced by Shochiku and filmed in Taiwan, and one whose mainstream appeal is virtually guaranteed by the prominent casting of pretty boy rockstars HYDE (formerly frontman for the quasi-grunge band L'Arc En Ciel, now solo) and Gackt (ex-singer for Malice Mizer, also now solo), both cult exports across much of Southeast Asia. With its Hong Kong-inspired action sequences and glossy music video sheen, Moon Child is certainly far bigger in scope than anything Zeze has done before.
Moon Child is not Zeze's first foray into the realm of the futuristic. His previous outing, SF Whip Cream, released at the tale end of the 2002, was a slapstick science fiction comedy, which made a virtue out of its low budget, though regrettably rather under-performed at the domestic box office during its limited release. SF Whip Cream offered an interesting glimpse of one of Japan's many alternate futures, depicting a society in which the "illegal aliens" living in Tokyo facing discrimination and being subjected to regular police round-ups this time came from space. Though this film's aliens all had pointy ears, the theme of outsiders facing a desperate existence on the periphery of society was not entirely dissimilar to that portrayed in his first ever film, Good Luck Japan (1989), a sex film produced by Kokuei, centred around a gang of Taiwanese mafia living around Haneda Airport, and the "Japa-yuki", girls who come to Japan from countries such as the Philippines or Taiwan to work as prostitutes.
Interestingly, Moon Child reverses this concept of marginalized Asians in Japan to that of marginalized Japanese in Asia. In the opening decades of the 21st century, economic collapse in Japan has seen a growth in illegal immigrants into the multi-ethnic city of Maleppa, a fictional society somewhere on the Chinese mainland riddled with organised crime and drug use. Sho (Gackt) is a young Japanese member of a rag-tag crime outfit living on the fringes who operate a drugged pizza scam in order to survive. One day the group are joined by the mysterious Kei (HYDE), a pallid vampiric youth cursed with eternal life.
Sho seems strangely unmoved by his friend's thirst for blood, and welcomes him into his close-knit makeshift family unit, which includes Toshi (Battle Royale's Yamamoto) and the mute Chinese girl Yi-Che (Kwok). The group seems unmoved by the sullen Kei's aversion to sunlight and inability to age, until that is, one night he falls upon the corpse of a murdered member of the group. Kei disappears into the night, never to be seen or heard of again. But somehow, the bond between him and Sho refuses to be broken.
Moon Child proves for the first time that Zeze has the technical ability both to handle large-scale action sequences, and to create elaborate comic book fantasy worlds. But the film is all flames and no fire, and there remains a lingering suspicion that the director is not quite in control of the material. Ultimately Moon Child is a vehicle for the two peroxide-headed pop-combo leads. Gackt was responsible for the main story, so it's perhaps no surprise that the film's fundamental flaw is its rather silly script.
As we are whisked to each new episode with increasing regularity while the onscreen text informs us that it is now "several years later...", it becomes rather difficult to work out what the central story is actually about. New characters appear, old characters die, but the only consistent emphasis is on the eternal unbreakable friendship between Kei and Sho. It soon becomes clear that for those left unaffected by the homoerotic symbiosis between the androgynous two leads are going to have a pretty rough time of it. Gackt's preening central performance certainly could do with a tighter reining in.
A deal of fun is to be had from the camp antics of Kei's bullet dodging vampire and Sho's pony-tailed posturing, but whilst the shadow of the Asian-inspired offerings from Hollywood such as The Matrix and Blade looms heavily over the action, by the final scene I was thinking more in terms of Thelma and Louise.