Not Forgotten
Year

2000
Original title

Wasurerarenu Hitobito

Japanese title

Director

Cast

Running time

120 minutes
Published

19 June 2001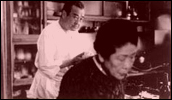 A joyful celebration of life and old age, Not Forgotten is a film that is at turns tender, funny, thought-provoking, and astonishing. Three veterans of World War Two symbolise the zest for life that contemporary society not so much lacks, but simply fails to see around it, caught up as it is in careers and the haste of day-to-day life.
These three veterans are Kijima (Mihashi), Ito (Aoki), and Murata (Oki). Murata does his best to run a small restaurant with his ailing wife. Kijima leads a quiet life, the cloud of guilt over the death of his wartime comrade Kanayama still hanging over him. He treasures the harmonica which used to belong to his fallen friend. Ito finally has an unbeatable zest for life, stopping in the streets to smell flowers, and even attempting to woo his neighbour. One day he visits Kijima to invite him to a soldier's reunion, an event Kijima normally shuns.
Hearing that Kanayama's granddaughter Yuriko, who takes care of Murata's wife, will be at the reunion, he finally concurs, with the intention of passing on the harmonica. The reunion turns out to be a joyous night, despite the girl's refusal to accept the gesture, feeling the instrument should stay with Kijima. Aside from a reunion, the gathering is also a celebration, since Yuriko's boyfriend has just started a new job at a corporation called Utopia and looks forward to this new phase in his life.
But we soon find out that this job trains him for deception, as the company's aim is to cheat the elderly out of their savings by means of the abuse of trust and information. The boy refuses to see the evil he is being made to do and wants nothing more than to become a fully accepted member of this corporate society. When Ito's neighbour becomes a victim to the scheme and Yuriko comes clean about the activities of the Utopia corporation, the three comrades decide to reunite and fight once again.
Okaeri (1995) director Makoto Shinozaki's choice to combine his humanistic portrait with a strongly fictional element in the guise of the morally corrupt, sect-like corporation, seems jarring at first but ends up an inspired move. It gives Not Forgotten a lot of dimension, intensifying the questions it poses about work ethic and the level of loyalty and allegiance to corporate life demands of their employees. Particularly the fact that the recruitment program of Utopia seems geared at young people who, once enrolled into the corporate structure, are deprived of the chance to discover more about life around them. They, like the elderly they are taught to deceive, are impressionable and form weak and easy prey. It's not surprising that when the strong unite to put an end to Utopia's devious practices (and here is where Not Forgotten echoes Sam Peckinpah's The Wild Bunch and Ride the High Country), it crumbles to dust.
Though on the surface Not Forgotten may seem to be a nostalgic work, its message is definitely one of hope and progress, as witnessed by the three lead characters. Their lust for life is carried over to the younger generations to whom they are so open. Symbolic in this sense is the harmonica which Kijima carries with him. It serves as his reminder that this life should be lived, not spent moping and pondering about the past. When he and his mates go off to fight the corporation, he passes the instrument on to the little boy that often comes to play in his garden.
Not Forgotten does not relate to one subject, but rather to a multitude of things we should remember to honour and appreciate. Not forgotten should be the aged, the fallen comrades, the deeds of the past, and the beauty that life continues to give us. And finally, not forgotten should be veteran actors Tatsuya Mihashi, Minoru Oki and Tomio Aoki, and Japan's cinematic legacy which is sometimes overshadowed by feverish attempts to churn out new product. This film represents Shinozaki's humble attempt at cherishing part of his nation's celluloid legacy and a call for others to do the same. It's a call which shines through on every level, resulting in a film full of love for its characters and the lives they lead.