Tsumugi
Year

2004
Original title

Seifuku Bishojo Sensei Atashi o Daite

Japanese title

Director

Cast

Running time

61 minutes
Published

28 February 2010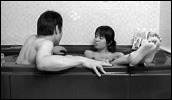 Putting aside for the moment that this is a pink film - a Japanese 60-minute softcore porn film - Hidekazu Takahara's Tsumugi (or, in its original translation, Uniform Beauty: Shag me Teacher!) is an astonishingly good film. Sure, it has a sex scene every ten minutes, but these do not distract from what is ultimately a very satisfying and mature story of people struggling with their identities and desires at key points in their lives. These scenes are also no chore to watch thanks to the electrifyingly erotic presence of the young actress Sora Aoi (her only pink film appearance, as she is best known for her legs-akimbo hardcore AV performances, but recently seems to be attempting to develop a credible acting career).
Aoi plays the titular student, an impishly sensual creature, who enjoys nothing more than teasing her male classmates and dancing on the school roof. It's here that she spies her tutor, Mr Katagiri (Naha) getting it on with a colleague. When he notices her, she holds her hands in front of her face in mock surprise, then mimes zipping shut her mouth and throwing away the key - each action perfectly designed for maximum sinister effect. Tsumugi is, quite simply, an irresistible force of nature, as Katagiri discovers when he finds her waiting outside his house that evening.
"So, I'm going home?" Tsumugi asks innocently and manipulatively after Katagiri attempts to shoo her away. Apparently not, as the next cut sees her amusingly rifling through the pictures in her teacher's front room, apparently trying to absorb as much knowledge as she can about the adult world. "Do you have a boyfriend?", he asks in a rather ill-advised manner. "Yes! Sensei!" She is quick to reply. A typical teenager in some respects, Tsumugi is profoundly confused about her purpose and her desires, constantly replying that she 'doesn't know' in response to his questions, or insisting that she wants things to remain vague forever. In spite of this it seems that Tsumugi is determined to wring out the secrets of life, particularly the notion of love and sex, though at the same time the biggest mystery to her is her own psyche.
Meanwhile Katagiri is just as confused. Struggling with the idea that he is about to become a father, his wife's absence to give birth in the company of her mother (a state of affairs that seems common in Japan, as though the menfolk still believe that babies are delivered by stalks and refuse to be shown otherwise) has given him the opportunity to have a couple of erotic encounters that have shaken his sense of self. "My wife was my best friend and I became a teacher for no particular reason. That's normal, right?" He asks Tsumugi at one point, after he begins to question his conventional life.
There's a surprising amount happening in such a short film that could initially be taken for just a piece of erotic fluff, and one fascinating intersecting narrative comes with Katagiri's interaction with a friend who heads a Japanese punk band. Clad in boiler suits emblazoned with rising sun motifs, sporting Mohawks and shouting lyrics that echo the film's themes of uncertainty and non-conformity, it's worth watching the film just to see these guys. Katagiri talks to his friend after concerts and their clashing personalities clearly represent two different ways to live and engage with society, each one seemingly flawed. As he becomes more confident in himself Katagiri even begins to stage dive, in an attempt to regain the youth that has passed him by.
The revelation comes when Katagiri's punky friend uses his celebrity to semi-rape a fan in his dressing room, only for the girl to reappear later and introduce herself as his abandoned daughter, a declaration that undermines the man's devil may care approach to life entirely, just as Katagiri's staid existence has been shaken by Tsumugi. In short, Tsumugi transcends its generic constraints and successfully aspires to be an artfully told youth drama, whose roots could be more closely traced back to the Sun Tribe films that preceded the Japanese New Wave, such as Crazed Fruit (Kurutta Kajitsu, 1956) by Ko Nakahira or Kisses (Kuchizuke, 1957) by Yasuzo Masumura, than simply to pornography.