Umineko – Inseparable
Year

2004
Original title

Umineko

Japanese title

Director

Cast

Running time

122 minutes
Published

21 September 2005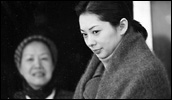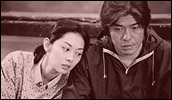 The past two years or so have seen an explosion of tearjerkers hit Japanese cinema screens in the country's so-called 'pure love' boom. A procession of shamelessly sentimental weepies that may strike foreign fans of the nation's cinema as an odd phenomenon, but which represent much better what the bulk of Japanese film production is about than the mostly independent and low-budget genre productions that make it to overseas audiences.
First, there was Crying Out Love, in the Center of the World (Sekai no Chushin de, Ai o Sakebu), which made it to the screen in record time after actress Kou Shibasaki drove the source novel to the top of the bestseller list by publicly proclaiming her infatuation with the book. Shibasaki was promptly cast in the lead, with Go director Isao Yukisada taking on helming duties. The film became the second-highest grossing Japanese film of 2004, just after Miyazaki's Howl's Moving Castle, raking in $80 million. Who said Japanese cinema is dead? Trailing just behind it with a more than respectable taking of 45 million that same year was Nobuhiro Doi's similarly styled Be With You (Ima Ai ni Yukimasu), in which Yuko Takeuchi's love for Shido Nakamura reaches even beyond the grave. You know the going is good when the ever-opportunistic Taka Ichise, guiding hand behind the current J-horror phenomenon, gets in on the act (by combining the weepy genre with the equally rejuvenated omnibus format in All About My Dog, 2005).
Largely throwbacks to the female-oriented productions of the 1980s that starred the likes of Keiko Matsuzaka and Sayuri Yoshinaga, such as Kinji Fukasaku's House on Fire (Kataku no Hito, 1986), this new surge of Kleenex-consuming creations is firmly governed by the law of diminishing returns, as Yoshimitsu Morita's Umineko - Inseparable quite clearly demonstrates.
Named after the seagulls that follow fishermen's boats above the waters of the Tsugaru Strait, Umineko is the brazenly melodramatic story of fragile, kind-hearted, big city beauty Kaoru (Ito, along with the ubiquitous Yuko Takeuchi one of the rising stars of the genre) who marries gruff northern fisherman Kunikazu (Sato) and moves in with him and his equally aloof mother (Shiraishi, fondly remembered for her menacing turn as Meiko Kaji's cackling fellow escapee in Female Convict Scorpion: Jailhouse 41). Soon she is up to her elbows in dried squid, but when her husband's artistic younger brother (Nakamura) enters the scene and the two find they share a passion for Paul Klee, Kaoru tries to disentangle herself from Kunikazu's nets.
Still best known in these parts for his subversive satire Family Game (Kazoku Game, 1983), it comes as quite a shock to discover that director Yoshimitsu Morita has plummeted to such relentlessly two-dimensional material. Perhaps the former prodigy believed that he was paying homage to Shinji Somai's The Catch (Gyoei no Mure, 1983), another love story set in a fisherman's milieu, going so far as to cast Koichi Sato, one of that film's leads. Two films with the same setting couldn't be more different than Somai's subtle and immensely powerful film and Morita's insufferable, unsightly behemoth. Every character in Umineko is drawn in black and white, with the porcelain-skinned Ito looking like she's about to crumble to dust at any moment from the brusque mannerisms of Sato's stomping hick. Like many of its brethren, Umineko is recommended only for those who feel that a daily dose of soap operas and harlequin novels doesn't quite fill their quota of tearjerking tragedy. Everyone else should track down a copy of Somai's masterwork.