Vibrator
Year

2003
Original title

Vaibureta

Japanese title

Director

Cast

Running time

95 minutes
Published

18 November 2003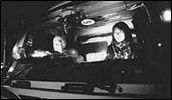 In his 2000 entry in the Love Cinema series Tokyo Trash Baby (Tokyo Gomi Onna), Ryuichi Hiroki portrayed a young woman attempting to find a meaning in her life through adulation for her part-time musician neighbour. A child of the post-bubble generation who has seen everything fail that her parents worked so hard to achieve (and that she was raised to have absolute faith in), she was a person adrift in a world that offered no alternatives to a failed socio-economic system.
Although two other films by the same director separate it from Tokyo Trash Baby, Vibrator continues Hiroki's exploration of the lost generation that symbolises a formerly rock solid and mighty country's shaky self-confidence and uncertain future. Boldly confronting one of the most fundamental social problems in post-industrial society (and not only that of Japan), he has delivered one of the bravest and most important films of recent years.
Adapted from Mari Akasaka's novel, Vibrator revolves around the decidedly wobbly lynchpin that is Rei (a magnificent, revelatory performance from stage actress Terashima), a young woman so lost that the only sensation she feels is the vibration of the mobile phone in her pocket. A single freelance writer (a shaky job if ever there was one), she is consumed by her own thoughts and the voices she imagines hearing inside her head. The real voices of those around her, however, rarely penetrate her shell. Buying packaged food at the local convenience store she hides her face inside her duffle coat and thick wool scarf. The vibrations of her ringing mobile phone resonate through her entire body, but are never responded to.
And then the hand of young bleached-haired truck driver Okabe (Omori, equally good and a million miles from Ichi the Killer) grazes lightly but very intentionally across her behind, and Rei is drawn out of her hiding place. What resonates now is the beating of her heart. She hesitates at first, but feeling that she might like to return the touch, she decides to follow him as he leaves the store. She joins him in his truck, parked at the gas station outside, but not before expressing her jumbled inner feelings by throwing up on the asphalt.
Okabe too is a free agent, doing jobs hauling freight across the country. Both outsiders, the two are inevitably drawn towards each other through shared fate, although Okabe's cool air of self-confidence also serves as a temporary anchor for Rei. With nothing better to do, she decides to join him on his route, and a relationship develops.
What starts out as an interiorised psychological drama swiftly turns into a much more brisk road movie after Rei chooses to stay with Okabe. This change of perspective expresses Rei's mental awakening, but never comes at the cost of the intimacy, since for most of the film's running time we remain with the impromptu couple inside the snug isolation of the cabin. In this regard, the use of DV also helps to retain an intimate feel to the proceedings.
Though Hiroki's background in erotic pink films may show through in the film's frank sex scenes, these too are shot in such a way as to underline a sense of closeness: filmed within the cramped confines of the truck cabin with the camera almost as close to the couple as they are to each other. Rather than being designed to titillate for their own sake, these scenes ring true for the somewhat desperate, but nevertheless honest exchanges of intimacy they represent. As Okabe keeps referring to the wife waiting for him back home, Rei's doubts persist through them and after them, showing how she also can't find her salvation in sex.
The result of Hiroki's approach is a duality of liberation and entrapment, expressed by the film's combination of exterior and interior environments, which symbolises the character's confusion over having chosen individual freedom over life as a corporate drone but not knowing where to find the purpose of (and in) that freedom. They know what they don't want, but are a lot less sure about what they do want. It's a confusion that is felt not only in Japan, but in most societies that have built their post-war identities to reflect the American model of corporation, family, and consumerism. With that model showing its shortcomings, if not yet having crumbled entirely, the search for new values is a universal concern in Western society, making Vibrator one of the most universally resonant and downright important statements cinema today can hope to deliver.