Watcher in the Attic
Year

1976
Original title

Edogawa Rampo Ryokikan Yaneura no Sanposha

Japanese title

Director

Cast

Running time

76 minutes
Published

10 October 2002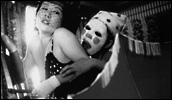 During the mid-1970s, the award-winning Noboru Tanaka was recognised as one of the most accomplished directors working at Nikkatsu studios, then up to their elbows in sleaze having committed themselves exclusively to the production of their lucrative Roman Porno line of high-class erotica.
Having already caused some stirs in certain critical circles with A Woman Called Abe Sada (1975), based on the same true-life story of sexual obsession and castration as Nagisa Oshima's better known In the Realm of the Senses, Tanaka followed it up with this freeform adaptation of Japan's most celebrated horror-mystery writer, Edogawa Rampo.
Rampo's writing has inspired and continues to inspire countless works for both the large and small screen, from such early theatrical features as Seiji Hisamatsu's 1946 production for Daiei, The Palette Knife Murder (Paretto Naifu no Satsujin), through the irresistibly camp charms of Kinji Fukasaku's Black Lizard (1968), to the spinechilling grotesquerie of Teruo Ishii's The Horror of Malformed Men (Kyofu Kikai Ningen, 1968) - which bears the honour of being one of the few films actually banned in Japan - and Shinya Tsukamoto's colourful Gemini. Indeed, just this year Masakazu Tamura's Detective Akechi pit his wits against Takeshi "Beat" Kitano in Akechi Kogoro vs. The Fiend With Twenty Faces (Akechi Kogoro tai Kaijin Niju Menso), a prime-time TV adaptation which aired during O-Bon week of 2002.
Tanaka's Watcher in the Attic is more overtly erotic than the majority of these adaptations, and serves to highlight the more graphically sado-sexual component inherent in the author's work, which reached fever pitch in the 1930s with a string of works that were dismissed by the critics under the catchall category of 'ero-guro-nansensu' (erotic grotesque nonsense). Indeed, the 100th anniversary of the author's birth in 1994 was marked by Shochiku studios with the bewildering big-budget biopic The Mystery of Rampo and saw a slew of racy Rampo adaptations, including a remake of The Watcher in the Attic from Akio Jissoji, a director perhaps best known for Tokyo - The Last Megalopolis (Teito Monogatari, 1987) and his 1970 debut feature This Transient Life (Mujo). Jissoji later went on to direct a SM heavy version of Rampo's The D-Slope Murder Case (D-Zaka no Satsujin Jiken, 1998), based on the short story in which "Japan's Most Famous Detective" Kogoro Akechi first appeared in print in 1925.
With a story set in a boarding house in Tokyo in the 1920s, the voyeuristic landlord Goda is the Watcher of the film's title. He roams the rafters and spies on the bizarre sexual encounters that take place beneath his roof between such colourful figures as a girl dressed in animal hides and an over-sexed Pierrot. Tanaka's version incorporates elements from a number of Rampo's stories, the most evident being an eccentric coupling scene lifted from the 1926 short story The Human Chair / Ningen Isu, which features an obsessive young man who fashions a chair with a hidden compartment just large enough to secrete himself in so as to become closer to the object of his abnormal desire whenever she sits upon it. This twisted tale was filmed in 1997 by Toshiyuki Mizutani, who later helmed the teen horror flick Isola.
Though to all intents and purposes virtually plotless, Tanaka's aesthetic sensibilities lend a perverse and otherwordly atmosphere to what could have amounted to little more than a string of titillatory set pieces, though the introduction of a murder scheme introduces some other dimension to the narrative.
Watcher in the Attic, like Tanaka's previous film, features one of Nikkatsu's top starlets of the time, Junko Miyashita, who went on to dominate Tatsumi Kumashiro's acclaimed porno classic The Woman With Red Hair (Akai Kami no Onna, 1979). She later made a brief appearance in Fire Festival.
Tanaka's film is quite hypnotic, beautifully shot and chock-a-block full of striking images. For those still unfamiliar with the not insignificant charms of Nippon eroticism, this film represents one of the finest in its field.