Whisper of the Heart
Year

1995
Original title

Mimi o Sumaseba

Japanese title

Alternative title

If You Listen Carefully
Prick Up Your Ears

Director

Cast

Running time

111 minutes
Published

23 January 2002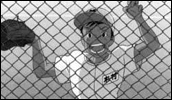 Though less well-known than the work of his contemporaries Hayao Miyazaki and Isao Takahata, Yoshifumi Kondo's sole outing as a director is a typical Ghibli product through and through. Universal in its appeal and packing a potent emotive charge, it is a sturdy addition to the same stable that brought us such gems as My Neighbour Totoro (Tonari no Totoro), Porco Rosso (Kurenai no Buta) and the box office smash of Spirited Away (Sen to Chihiro no Kamikakushi), which broke the record previously set by Titanic as Japan's highest grossing film of all time.
That Whisper embodies Studio Ghibli's in-house style so wholeheartedly isn't so surprising, as it was scripted by Miyazaki (from an original manga by Aoi Hiiragi). Kondo's working relationship with Japanese animation's leading light stretches all the way back to the Princess Mononoke director's first original work as a screenwriter, Panda Kopanda (1972), directed by Takahata, on which Kondo worked as an animator. Kondo had also worked as either a designer or an animator on a number of the studio's more prominent features directed by the other two directors, including the tear-jerking childhood wartime drama Grave of the Fireflies (Hotaru no Haka, 1988) and the poignantly nostalgic Only Yesterday (Omoide Poro Poro, 1991) by Takahata, and Miyazaki's Kiki's Delivery Service (Majo no Takkyubin, 1989), amongst others. Tragically his untimely death of an aneurysm in 1998 at the tender age of 47 put an end to any further directorial contributions.
Shizuku is a dreamy 14-year-old schoolgirl who secretly yearns to be a novelist. Whilst indulging her voracious literary appetite in the school library, she notices that the same name continuously crops up in the borrower's list of all of the books she has taken out: one Seiji Amasawa. Her initial chance brush with the boy who shares the same tastes in reading as her crushes any romantic illusions she might have been harbouring when Seiji ridicules her reworking of Dolly Parton's country and western classic "Country Road", which she has tailored to fit her own suburban environment and entitled "Concrete Road".
Whilst taking the subway on an errand for her mother, a fat tomcat wanders across Shizuku's path. Intrigued by the chubby feline's singular sense of purpose, she follows it from the train all the way to the front door of a tumble down antiques shop. The shop's eccentric ageing owner, a kindly old wizard with a twinkle in his eye, welcomes her into this Aladdin's cave of curios, piquing her curiosity with a story of how he came across the pride of his collection, a statuette of a dandy cat in a top hat with sparkling emerald eyes. Shizuku is overjoyed when the old man hands out an open invitation for her to return any time she wishes, but her glee is short-lived when she discovers that he is the grandfather of none other than the young lad Seiji.
Nevertheless, Seiji apologises for his crassness during their initial meeting, and a budding schoolyard romance begins to develop until Shizuku's beau drops the bombshell that he's shortly to move over to Italy to begin an apprenticeship as a violin maker. Initially devastated by this announcement Shizuku rationalises that if she can't be with Seiji then she should at least attempt to match his ambition, and sacrificing her revision for the end-of-year school examinations, with the encouragement of his grandfather she pours her heart into writing a novel, the centrepiece of which is the statue of the foppish cat.
With its wonderful marriage of dreamlike flights of fancy and touching rite of passage, Whisper of the Heart could bring a tear to a glass eye. Delightfully animated with a keenly observed attention to detail, Kondo's film respectably sits amongst the studio's canon of some of the most heartfelt and technically brilliant animation ever made the world over. Inspirational.