World's End / Girlfriend
Year

2004
Original title

Sekai no Owari

Japanese title

Director

Cast

Running time

111 minutes
Published

18 November 2012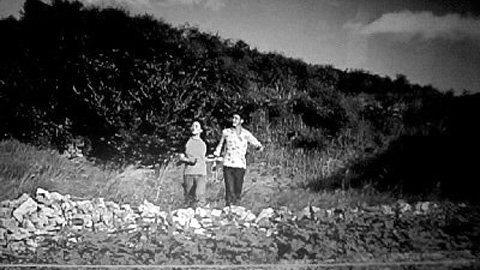 Shiori Kazama's overlooked, but engaging and highly watchable look at the romantic yearnings of a group of emotionally fickle twenty-somethings sees Mami Nakamura as Haruko reprising the same lively onscreen persona that she brought to Ryuichi Hiroki's Tokyo Trash Baby. A carefree yet unfulfilled part-time worker at a hair salon whose natural pluckiness often gives way to dark gloomy spells in her more private moments, Haruko almost seems like a direct continuation of her character from Hiroki's film, here pitched into a similar milieu to that of Kazama's previous work, The Mars Canon (2001), in which she also starred, a look at restless couples entangled in impossible love triangles. The connection doesn't end there, as Shibukawa (a.k.a. KEE), here playing the main male lead of Shinnosuke, also appeared in Hiroki's DV-shot Girlfriend (Garufurendo, 2004) in a similar, though less central role. In other words, those familiar with these earlier films will find themselves in comfortably familiar territory here.
In the wake of a bitter break-up from her last boyfriend, Haruko arrives, suitcase trundling behind her, at the apartment of an old friend Shinnosuke, which he shares with his co-worker at a shop selling bonsai. Setting up camp on their sofa, Haruko finds Shinnosuke's charismatic, easy-going charm a welcome distraction from her own sense of disenchantment with matters of the heart. Haruko's greatest fear is loneliness, but Shinnosuke is the kind of guy who is never alone, nor shows any sign of wanting to settle down with anyone. Then, a chance encounter with pernickety salaryman Nakamoto (Tanabe) ends up with Haruko fired from her workplace and taking up new employment dressed up in a pink bunny suit advertising a karaoke parlour. Next time Haruko bumps into Nakamoto, she ends up falling for his gentle, reliable nature. But could Nakamoto be the man she is looking for, or is there someone else closer at hand?
A gentle, often humorous, character-driven piece shot in Okinawa, though the locale never really makes its presence visibly felt, it is difficult not to be won over by the charms of World's End. Even if, throughout all the twists and turns in the relationships of all the main characters, it is often unclear what conclusions the film might be heading towards, what immediately shines through is the infectious personalities of everyone onscreen. Unfortunately low-key romantic dramas such as this, especially ones made over five years ago, seldom get much in the way of interest from overseas distributors, more is the pity, because unmarred by the sentimentality, trite conclusions and shifts in tone that often mar so many Japanese Rom-Coms, Kazama's tender portrait of disillusioned youths is a film that is hard to find fault with.
Born in 1966, director Kazama started off in film with making self-financed 8mm works made during the 80s, winning the first Pia Film Festival Scholarship Prize in 1984 with 0×0 (Zero Kakeru Koto no Zero) while she was still at high school, leading to Pia helping find financing for her first feature How Old is the River? (Fuyu no Kappa) in 1994. One of the precursors to the past decade's wave of women directors, who include Yuki Tanada, Momoko Ando, Nami Iguchi and Naoko Ogigami (one might also include Miwa Nishikawa among the roster, although because they don't focus so obviously on female subjectivity, one could argue that her gender as a director has less bearing on the style of her films), I think the most likely way non-native Japanese speaker will get a chance to see this nowadays is if it were included in a retrospective on Japanese women filmmakers. One hopes it might happen, because though World's End / Girlfriend might not set the world on fire, it's a nice warm, gentle way of passing the two hours.