The V-Cinema Notebook, Part 2: The Action Paradigm
Crime Hunter, the first release in Toei's V-Cinema product line, was an action movie. This was not an arbitrary choice. From the outset, Toei Video's new venture was set up to deliver something exciting, something different from "Japanese films", which, in the words of the mastermind behind V-Cinema, producer Tatsu Yoshida, were "too explanatory, so they lack speed."
Video was a new medium in that viewers wielded the power to fast-forward through a movie, regardless of how much money, time, and manpower that film may have cost to make. Yoshida set out to produce a film "that would not be fast-forwarded", a film that could compete with the Stallones of the world.[ 1 ] After all, they shared the same video store shelf, so in that regard at least it was a level playing field.
Crime Hunter's one-hour running time which followed from Yoshida's chosen strategy "inevitably resulted in a good amount of narrative condensation. The focus is on action and the build-up toward it and even the action scenes themselves are frequently condensed further into montage sequences. Dialogue scenes exist only to deliver essential exposition, while character development is limited to mood swings that are usually expressed not through acting but formally, as expressionistic visual mood pieces. This makes Crime Hunter, in a sense, pure action cinema, kinetic spectacle for its own sake – a procession of shoot-outs, car chases and explosions, situated in their most archetypal settings: harbour docks, night-time streets, nightclubs and warehouses."[ 2 ]
In March of 1989, Toei V-Cinema's "first shot" (daiichidan) – which sounded rather more exciting than prosaic description like 'debut' or 'inauguration' and was therefore proudly emblazoned on the packaging – landed on the shelves of all of Japan's roughly 16,000 video stores. Crime Hunter was an instant hit. Profitability in the video market was a matter of simple calculation: a single videocassette cost between 12,000 and 15,000 yen, wholesale or retail. Toei was giving its V-Cinema productions budgets of around 60 million yen (roughly US$ 550,000). Even when the tapes were sold to the rental market with discounts or in package deals that brought the price per unit down to 10,000 yen (as was often the case), with 16,000 video stores as its customer base, Toei still stood to make back a multitude of what it had invested in a single film.
Alex Zahlten argues[ 3 ] that two of the main factors in the early dominance of action and yakuza films among Toei's straight-to-video output were the figures of producers Tatsu Yoshida and Mitsuru Kurosawa. Yoshida had been a Toei employee since the days of the ninkyo eiga and a disciple of the studio's legendary producer Koji Shundo (father of one of the ninkyo eiga's undisputed stars, Junko Fuji). Kurosawa had worked at Nikkatsu, originators of 'borderless' action, a style to which Crime Hunter could also be said to adhere, with its "Little Tokyo" police department, non-Asian extras, and heroes named Joe and Bruce. After his time at Nikkatsu, Kurosawa moved to Toei Central Film, a subsidiary that churned out lower budget action films, including many of Yusaku Matsuda's early starring vehicles, such as The Most Dangerous Game (Mottomo Kiken na Yugi, 1978).
Tatsu Yoshida headed the V-Cinema imprint and functioned as the films' 'planner' (kikakusha, an executive producer credited with providing the basic creative concept of a film), while Mitsuru Kurosawa was in charge of Central Arts, the Toei subsidiary responsible for the actual physical production of many of the films released as V-Cinema. Before the year 1989 was over, they had made and released two more films under the V-Cinema banner: The Shootist (Sogeki, directed by Haruo Ichikura and starring Toru Nakamura) and Crime Hunter 2 (Kuraimuhanta 2 Uragiri no Judan, again directed by Toshimichi Okawa and starring Masanori Sera). Both were action pictures.
The success of Toei's new commercial venture was immediate and at the start of the year 1990 the company announced that it was stepping up production and increasing the frequency of releases to one title a month starting in April and subsequently to two or three a month from October of that year. Nearly all the films it made that year were action films and a number of them almost doubled Crime Hunter's sales performance. Most notable among these hits was Neo Chinpira (Neo Chinpira Teppodama Pyu), a yakuza comedy whose success launched Sho Aikawa to V-cinema stardom. Directed by former pink film and Director's Company mainstay Banmei Takahashi, it is still today considered one of the best films to come out of V-cinema by fans and professionals alike.
With Toei selling up to 30,000 copies of a single title, other film companies were understandably eager to jump on the bandwagon. Throughout 1990 and 1991, a bevy of specialist labels sprang up to copy the Toei model, some within established companies like Nikkatsu, Daiei and Tohokushinsha, others newly launched, often with the aid of the abundant millions of Japan's bubble economy. Since Toei had found success with action films, it was logical that the other 'video makers' (bideo meka, a pseudo-Anglicism for what in theatrical releasing would be called the distributor) followed suit.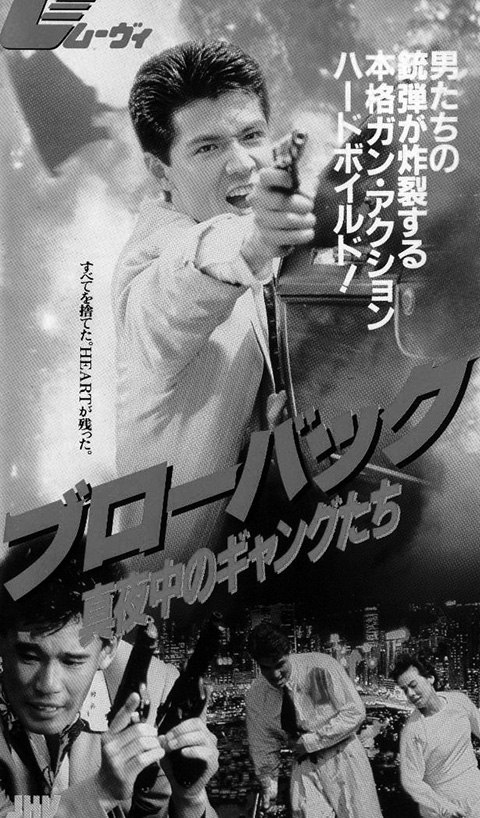 During V-cinema's early years its focus on the action genre was such that veteran film critic Sadao Yamane, who saw in original video a return of the program picture of yore, drew up a list of subgenres to categorize the variety of action product that was coming out from the various video makers:
- 'gun action', as exemplified, naturally, by the thoroughly ballistic Crime Hunter (a web search for its Japanese title, 'クライムハンター', reveals the existence of a veritable cult around the various handguns used in the film). Both Japan Home Video and KSS took their first shots at V-cinema with 'gun action' flicks: Blowback (Burobakku Mayonaka no Gyangu-tachi, 1990), directed by former JHV back office employee Atsushi Muroga and starring Riki Takeuchi, and Tuff (Tafu, 1991), by the then still unclassifiable journeyman Masato Harada;
- 'female action' was initiated with the first of Toei's monthly releases, Black Princess (Burakku Purinsesu: Jigoku no Tenshi, 1990, dir: Hideo Tanaka), and was essentially gun action with a female protagonist. Takashi Miike made his directorial debut with a 'female action' pic, Lady Hunter / Redi Hanta Koroshi no Pureryudo, released by Shochiku Home Video in 1991;
- 'car action' kicked off in the shape of Nikkatsu's first foray into straight-to-video releasing, Freeway Speedway: Megalopolis Expressway Trial 2 (Shuto Kosoku Toraiaru 2, 1990, dir: Shuji Kataoka);
- 'sexy action', which added sex and nudity to the 'female action' template. The term was coined for Tohokushinsha's first original video release, Big Breast Hunter (Kyonyu Hanta, 1990, dir: Hisashi Watanabe), but the subgenre is epitomised by Toei's XX series and such later emulations as the Zero Woman and Prisoner Maria series.[ 4 ]
Video was from early on a domain predominantly associated with male customers. An early model of the video rental store in Japan allowed customers to watch the tapes they rented on the premises, in private booths, a practice later mostly restricted to retailers of hardcore pornography and manga cafés – both largely male-dominated spaces. Additionally, an oft-repeated anecdote says that the reason VHS won out over Betamax in Japan was because VHS decks came with a free copy of Tetsuji Takechi's 1981 hardcore sex film Daydream (Hakujitsumu), starring Kyoko Aizome. Well into the nineties, video store memberships were held predominantly by men (70% in 1993).
"That was a time when guys watched movies, which unfortunately doesn't happen now," says Shinji Aoyama, whose 1996 V-cinema production for KSS, A Cop, a Bitch and a Killer (Waga Mune ni Kyoki Ari) combined virtually every one of Yamane's sub-categories into a single film. "Most film projects these days are geared toward a female audience. There are quite a few women who enjoy horror films, but not many that are action fans. So it's difficult today to have a business model that is based on the idea of delivering action films, like V-cinema did."[ 5 ]
Kiyoshi Kurosawa's entry into V-cinema, with 1994's Yakuza Taxi (893 Takushi, produced by Twins Japan and released by KSS) also came about thanks to V-cinema's reputation as a purveyor of action films: "I had the desire to shoot an action film, which would have been very difficult to do within the context of TV production, so I thought that in V-cinema I might get the opportunity to do an action film. So I immediately agreed to the offer from Twins. I did make a few horror-themed projects for TV, but I'd never had the chance to do action. Even now, in feature films, it's very difficult to do an action film as a project, to get it funded and off the ground."[ 6 ] The resulting film, however, adhered closer to the yakuza comedy mould of Neo Chinpira – as did the later teaming of Kurosawa and Sho Aikawa for the six-part Suit Yourself or Shoot Yourself! (Katte ni Shiyagare!!) series.
Bolstered by the instant success of its V-Cinema releases, Toei Video upped the ante even further and looked to distinguish itself from its competitors by shooting films in the United States. The first entry in what was launched as the 'V-America' line-up was 1992's Distant Justice (Fukushu wa Ore ga Yaru, dir: Toru Murakawa), which featured a cast that combined Battles Without Honour and Humanity star Bunta Sugawara with George Kennedy and David Carradine. Toei repeated the formula the following year with New York Undercover Cop (Nyu Yoku U Koppu), again directed by Toru Murakawa, an old associate of Central Arts producer Mitsuo Kurosawa who had directed many of Yusaku Matsuda's films, including The Most Dangerous Game, Resurrection of the Golden Wolf / Yomigaeru Kinro, and The Beast to Die / Yaju Shisubeshi. New York Undercover Cop had V-cinema star Toru Nakamura in the lead, with Steve McQueen's son Chad, Hong Kong action star Conan Lee and a young Mira Sorvino rounding out the main cast.
V-America was part of a diversification strategy on the part of Toei Video, which also launched the equally exotic sub-labels 'V-Erotica' and 'V-World'. The former encompassed softcore sex films shot in other Asian countries (first release: Manilla Emmanuelle / Manira Emanieru Fujin Masho no Rakuen, 1992, dir: Ryoji Shinmura), the latter was made up of sub-Hitchcockian thrillers shot in Australia. The first entry in the short-lived V-World label, Crimebroker, starred Jacqueline Bisset and Masaya Kato as partners in crime and in bed, and was notable primarily for having a local director in Ian Barry. Barry also directed the follow-up Seventh Floor, in which Masaya Kato got to woo Brooke Shields.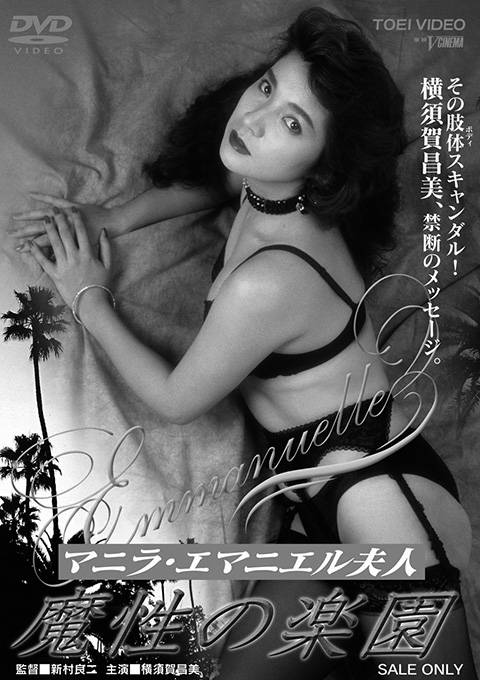 Toei began to apply such outsourcing to its V-America releases as well, which were made by American directors from the third entry onward. American Yakuza, directed by Frank Capello, brought together two leads who would later achieve much greater recognition as actors: Ryo Ishibashi and Viggo Mortensen. The formula was applied several more times: Blue Tiger (1994), directed by Norberto Barba and starring Ryo Ishibashi, Toru Nakamura, Virginia Madsen and Harry Dean Stanton; No Way Back (1995), again directed by Frank Capello and starring Etsushi Toyokawa and Russell Crowe; and Back to Back (1996), directed by Robert Nygard and starring Ishibashi alongside Michael Rooker.
Though released in Japan as under the Toei V-America moniker, these films were in effect international co-productions. Toei's share in them was equal to a normal V-Cinema budget, with the remainder of the financing brought in from the U.S. side and occasionally another country such as France. Unlike V-cinema, the films made it into international markets, where they were no longer identified as Japanese products.
Producer Takashige Ichise, later to become one of the figureheads that brought J-horror to the world, served, through his L.A.-based company OZLA Pictures, as Toei's international liaison for the V-America projects. These would include two duly westernized manga adaptations: Fist of the North Star (1995), directed by Hellbound: Hellraiser II's Tony Randel and featuring a highly eclectic cast that included Malcolm McDowell, Melvin Van Peebles, MTV personality "Downtown" Julie Brown and British martial arts actor Gary Daniels; and Christophe Gans's arguably more successful 1995 live-action adaptation of Kazuo Koike and Ryoichi Ikegami's Crying Freeman, starring Mark Dacascos.
Toei's V-America initiative saw few emulators. Not surprising, given not only the financial stakes involved in such a venture, but also the need for contacts on the ground, which the largely inward-looking V-cinema industry lacked. One exception was director Masato Harada, who had spent many years living and working in Los Angeles, where he had shot the science fiction film Gunhed (1989). Harada spoke the language and had the connections.
Harada's straight-to-video Tuff series, released by KSS, had been among the better films to come out of V-cinema during the early 1990s. After four episodes consisting of two sets of back-to-back narratives about the adventures of a young hitman played by Kazuya Kimura, Harada put the funds together for a fifth instalment. This fifth entry was altogether superfluous from a narrative standpoint (it consists largely of footage from the previous four films recycled as flashbacks), but it allowed the director to return to his beloved California, where he shot a throwaway tale of the hero waking up among the drunks and junkies of L.A. and being taken in by a family that runs afoul of a corrupt cop.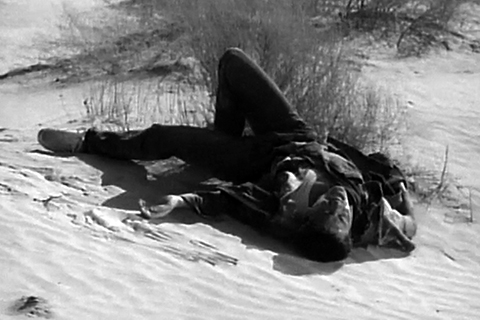 While largely devoid of interest as a film in its own right, Tuff Part 5 (Tafu Part V Kariforunia Koroshi no Ansoroji, 1993) essentially served as a dry run for a much more ambitious project Harada was hatching, entitled Painted Desert (1994). Ostensibly a theatrical spin-off of the Tuff series, the end result, financed by KSS, Shochiku and TV channel Wowow, plays like an adaptation of Hemingway's The Killers by way of Bagdad Café, as Kimura's assassin protagonist wakes up dazed and confused again, in the Nevada desert this time, and is taken in by the feisty Japanese-American owner (Nobu McCarthy) of a roadside diner frequented by local layabouts and gangsters. Harada goes into the various problems that plagued the production in this 2001 interview with Midnight Eye and it must be said that, while it is pretty to look at and features a cast of recognizable American actors including James Gammon and Vincent Schiavelli, Painted Desert is a largely forgettable addition to either Harada's filmography or the legacy of V-cinema.
None of these efforts at internationalising V-cinema had much of a lasting impact. With the arguable exception of Crying Freeman and its director Christophe Gans, Toei's V-America venture never produced anything more than anonymous fodder for the rental store shelves. The films were interchangeable with the bulk of American 'cop on the edge' straight-to-video action yarns, if not for their Japanese co-stars – none of who had enough name value abroad to help the films stand out in the first place.
The early 1990s were arguably too early for anything or anyone working in V-cinema to make a lasting impact on a wider international scale. The western canon of Japanese films and filmmakers had been firmly set for decades, while the accepted discourse in writing on Japanese film was one of decline and entrenchment. It would take the arrival of new auteurs – notably Takeshi Kitano and Shinya Tsukamoto, neither of who ever worked in V-cinema but who brought innovative approaches to genre (yakuza film and science fiction, not action films) – to pave the way for the filmmakers that would emerge from the straight-to-video arena in the second half of the decade.
Those filmmakers that would emerge from video, such as Shinji Aoyama, Kiyoshi Kurosawa and Takashi Miike, did so with films whose individuality – personality or signature – resided in their rejection of a formulaic approach to genre and in their lulls and valleys, the moments of stillness, mood and character: precisely those moments of calm that Tatsu Yoshida's philosophy consciously left out of early V-cinema and which led to these filmmaker being championed as auteurs by key foreign gatekeepers.
To be continued
References